Our full agency pages are only available to ALF subscribers. A representation that includes the information an ALF subscriber would see is shown below.
We research every agency associated with the top 6,000 advertisers in the UK and their related brands.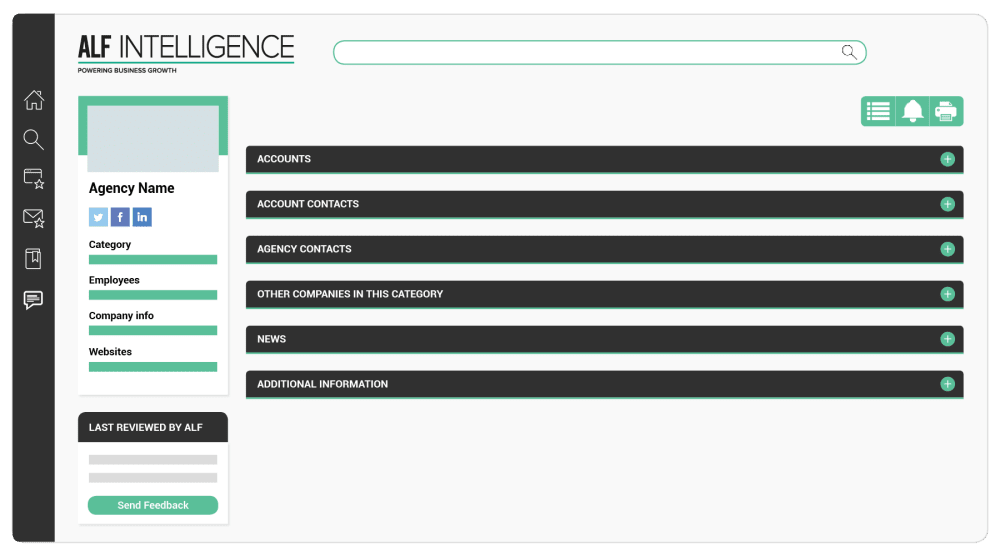 We cover agencies across multiple categories including full service, media planning/buying, market research, creative/design, PR and sales promotion.
Our agency profiles showcase all the information you could possibly need including:
Accounts this agency is working on
Key contacts at these accounts
Social media links such as Facebook, LinkedIn and Twitter
The category the agency belongs to
The number of employees at the agency
The ultimate parent of the agency
The agencies' billings - both declared and as researched by Nielsen
The location of the agency
Telephone and fax number
News including anywhere the agency has been mentioned in one of the 24 trade press sources we cover
Spend data showing you what marketing channels the company has invested in
Quarterly trend giving insight on their historic spend
Agency contacts including their job titles and responsibilities
Other companies in the same category as this agency
To see a full agency profile with real data and everything else ALF has to offer, request a free demo today.