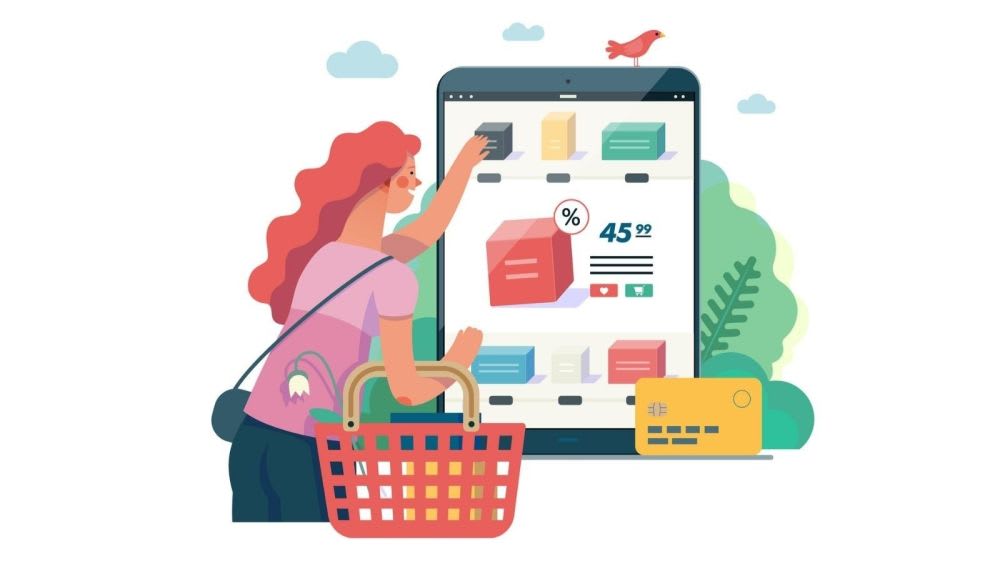 According to new research from ecommerce delivery groups ShipEngine and ShipStation, in partnership with Retail Economics, UK households are expected to have £3bn less to spend this Christmas compared with last year. Along with starting shopping earlier and cutting back on overall spending, consumers are expected to utilise online marketplaces to help stretch their budgets. The report suggests that online marketplaces will account for almost £202bn worth of sales over the peak season in total (across eight countries including the UK).
And this festive season's expected gains for marketplaces are part of a broader trend towards use of these online retailers. According to data from the European Marketplaces Report, 35% of online purchases made globally now take place on a marketplace. This compares to 17% of sales that take place in a supermarket and 12% on a retailer branded site.
These marketplaces act as both a 'one-stop shop' and a 'search engine' for shopping, and give customers convenience, competitive pricing, a plethora of choice and easy delivery options. Many small businesses rely on online marketplaces for their products to reach a wider audience, giving customers access to more unique goods from many different suppliers.
The European Marketplaces Report categorises marketplaces into - pure marketplaces, that act simply as the platform for other merchants to sell on, and mixed marketplaces, which sell both third-party seller products along with items from their own ranges. The latter includes an increasing number of retailer-run marketplaces including those of Superdrug, B&Q, Mountain Warehouse and Farfetch.
This year, it was reported that Sainsbury's was planning to build a new online marketplace for fashion brands as it looks to diversify its product offering. Meanwhile, Shein has launched its marketplace in Brazil, Mexico, and the U.S., with further plans to expand to Europe.
The cost of living crisis has forced people to find more ways to make money and selling second-hand items on the likes of Facebook Marketplace, eBay, Vinted and Depop has grown in popularity.
According to the European Marketplaces Report, the trend with traditional brands and retailers launching their own marketplaces is set to continue into 2024. The report outlines other trends for marketplaces going forward including AI, voice commerce, chatbots, omnichannel, live shopping, visual search and AR. Therefore, marketing services providers of that ilk should take note.
Online marketplaces also have faced and will face challenges. Investigations have found unsafe products sold on online marketplaces particularly within the toys and small electricals categories. The sector has also struggled to manage the sale of fake items. Online marketplaces are also facing increased competition from social commerce sites such as TikTok Shop. Despite social media sites not classed as marketplaces in the traditional sense (transactions take place on the brand's own website), social media sites are increasingly bringing together buyers and sellers in one place, much like other marketplaces.
ALF gives you access to the decision-makers and contact details of the UK's biggest and growing online marketplaces. Below we have delved into a handful of the marketplaces you can find on the platform along with insights to help you craft the perfect pitch.
Amazon – Rolling Spend £251m
Amazon, which turned 25 years old in the UK this year, recently launched a global media review. It has worked with Initiative on the business for a decade. Prior to this, Amazon appointed adam&eveDDB to its creative and strategic European roster without a pitch, with a campaign due to roll out in Q1 2024. Amazon's ad spend has grown year on year every year since 2017.
To mark its 25 years in the UK, Amazon revealed the top 25 products of all time bought on its platform. These included toilet roll, wet wipes, dog poo bags, batteries and coffee pods.
In June, Amazon was accused of being 'no friend of the small business' after a report discovered evidence that the online marketplace has increased fees and advertising costs for sellers.
In a recent interview with This is Money, Amazon's UK CEO John Boumphrey claimed that the platform had witnessed a shift in shopping behaviours since the cost of living crisis, saying, 'We've seen people buying more unbranded goods and also changing the sizes of their purchases. They are either buying in bulk to save money or buying items in smaller sizes than they were before.' In Retail Week's Crisis & the Consumer report, Boumphrey outlined that Amazon's priority is low prices, vast selection and fast delivery: 'That's something that our customers value every day, especially when budgets are tight, and we have always focused on the best possible customer experience.'
Asos – Rolling Spend £471k
Asos is amid a turnaround plan after a new CEO took to the helm in June last year. The business secured £75m in fundraising to support its plan, which it announced in May. Meanwhile, Frasers Group has gradually been increasing its stake in Asos, recently bringing its share its over 20%.
Asos's ad spend fell steeply in 2022, to just £392k compared to an average annual budget across the previous five years of £1m.
Last year, ASOS' CEO Jose Calamonte blamed 'insufficient' brand investment and an over-reliance on promotions with driving a slowdown in customer acquisition over the past year, as it reported a loss before tax of £31.9m in its full year results for 2022, down 118% on 2021. Asos has felt the wrath of consumers pulling back on clothing expenditure and making more considered purchases that move away from fast fashion.
More than 80% of Asos' marketing investment was focused on performance marketing, 'leaving insufficient spend focused on driving longer-term brand awareness'. In January, the business claimed to be 'optimising marketing spend' and reallocating investment to improve ROI, as the company ramped up its 'obsession' with profitability.
Changes in its strategy have included a partnership with Secret Sales to shift excess stock, an expansion of its face and body offering to meet demand, a partnership with fashion disruptor Hirestreet to help launch its first ever online rental marketplace and capitalise on the clothing rental trend, the closure of its outlet department, and a credit card product in partnership with Capital One due to launch in the coming months.
Asos revealed a loss before tax of £87.4m for the six months ending 28 February 2023. The company also posted an 8% drop in revenues down to £1.8bn from £2bn in the same period last year, with UK sales down 10% YoY.
In the three months ending 31 May, it reported its EBIT increased more than £20m year-on-year, which came despite its revenue falling 11% from £964m to £859m in the same period. Asos stated that this reflected its deliberate actions for profit optimisation and cost savings. Sales in the UK fell 14% during this period.
Then, in the three months to 3 September, ASOS reported a 15% drop in sales, having been affected by wet weather over the summer months. Asos stated that in line with its aim of focusing on consumers it perceives as being higher-value, it has launched personalised marketing to improve the profitability of its overall customer base.
Asos full-year results will be posted on 25 October. Asos could review its agency requirements and marketing strategy next year as part of its turnaround plan.
eBay – Rolling Spend £48m
eBay reviewed is media business four years ago in 2019, when it consolidated its media business into Mediacom. In June this year, eBay awarded its advertising account to Joan, moving its business from McCann This suggests new campaigns are on the horizon.
eBay was the headline sponsor of ITV's Love Island this summer, extending the partnership into its second year. Competitor in the fashion sector, Vinted, later became the sponsor of the revival of Big Brother on ITV.
In March, the second-hand marketplace promoted its CMO Eve Williams to the role of VP and general manager. At the time she said, 'As UK shoppers think much more about the environmental impact of how and what they buy, we are uniquely positioned to offer a smarter, more sustainable place to shop.'
Etsy – Rolling Spend £26m
Etsy has become the go-to retailer for shoppers looking for one-of-a-kind handcrafted items. Etsy's largest above the line advertising spend on record came in Q4 2022, when it invested £12m.
Etsy last appointed a PR agency in February 2021, suggesting it could review the account after three years at the start of 2024.
Etsy has run into a few troubles of late. Earlier this year, Etsy UK sellers have boycotted the online craft marketplace after it increased the amount of sales income it holds back from some vendors to ensure items are delivered as promised. Shortly after the news broke, Etsy said it was 'substantially decreasing' the amount of money it would put on hold but did not state the new rate or time frame.
Etsy has also fallen foul of fake products, with an investigation by Which? finding so-called 'handmade' items being sold for higher prices that could be bought from the likes of Amazon and B&M.
In August, Etsy forecast a slowdown in Q3 revenue as the rising cost of living causes an impact on the purchase of discretionary items, including personalised products and gifts sold on Etsy's marketplace.
Last year, Etsy's Christmas adverts revolved around the theme of meaningful gifting.
Depop – Rolling Spend £315k
Etsy-owner Depop has recently appointed a chief marketing officer and a head of PR, which followed its new CEO appointment in September last year. Depop's main competitor in clothing is Vinted, which spends considerably more on advertising. Depop's 2022 ad spend was £408k compared to Vinted's £37m.
Depop launched an OOH campaign in May this year under the tagline 'I Got in On Depop' aiming to appeal to its core Gen Z market. In its most recent reports, Depop posted an 8% improvement in annual sales to £54.3m, while losses narrowed to £59.4m.
In an interview with The Drum earlier this year, Depop's direct or brand marketing Steve Dool said that the platform is marketing itself as an 'inspiration destination' where users are 'buying into people and their styles'. Depop is also different from Vinted in that Depop charges fees of 10% whilst Vinted lets sellers sell for free. With fewer sellers on Depop, items could be considered more exclusive.
Exemplifying the omnichannel trend of online marketplaces, Depop recently signed a partnership with pop-up retail space provider Sook, giving online sellers the chance to showcase their goods in some of the UK's most high-profile retail destinations.
In Etsy's 2022 annual report, it said 'Etsy believes Depop is a highly-relevant and authentic re-commerce brand that is still early in its growth lifecycle and plans to continue to invest accordingly.'
Farfetch - Rolling Spend £1.2m
Farfetch is a global platform for luxury fashion which gained a new chief marketing officer in April this year. Farfetch reviewed its media agency in July 2021, and prior to that awarded its media account a year earlier in 2020. It appears to have not appointed a creative agency since 2020. In both 2023 and 2022, Farfetch's quarterly ad spend has peaked in the second quarter.
Along with its new CMO, Farfetch gained a new CFO and made several appointments across brand, social media and customer insight. However, after swinging to a loss after tax of £140.5m in the three months to 31 March, down from a profit of £587m in the same quarter last year, the business underwent a restructure with some of its marketing team departing the company. In August, it also announced the closure of its beauty arm, signalling a streamlined focus on its fashion business.
For its full year, Farfetch expects revenue of approximately $2.5bn, up from $2.3bn in 2022.
Sustainability is on the mind of this business, suggesting this could be a focus on its marketing efforts. Thomas Berry, Senior Director of Sustainable Business, FARFETCH, said: 'We are committed to driving positive change in the luxury industry. This year's Conscious Luxury Trends Report showcases the remarkable progress being made in this space across the industry, and the significant opportunities for brands to align with consumer values and help to deliver positive social and environmental progress. By embracing sustainability as a strategic imperative, brands can not only meet the growing demand for Conscious products and circular services, but also shape a more sustainable and inclusive future for the luxury industry.'
Wayfair - Rolling Spend £8.5m
Wayfair appointed a new media agency in May. It appointed a creative agency in 2022 and launched a new advertising campaign in June 2023.
Wayfair has struggled with weakened demand for furniture during the cost of living crisis and also reduced its workforce earlier this year in a cost-cutting measure.
Wayfair has recently invested in AR tech – adding a 'view in the room' functionality to its app, in the hope of driving more purchases. Research suggests consumers are 11 times more likely to complete a purchase after using some kind of AR.
Wayfair has also been working on its impact, with a focus on partnerships with organisations that support housing and a sense of home including the International Rescue Committee, Shelter, Focus Ireland, and Habitat for Humanity.
Wish – Rolling Spend £3.8m
Wish has been going through a period of turbulence after several years of success selling ultra-low price items on its marketplace. This is due to increased competition from the likes of Shein and Temu.
According to an article by Modern Retail Co, the company's new management also 'wants to shed this image by turning Wish into a marketplace for affordable — but higher quality — products'. Its first steps towards this goal have included a rebrand, improvements to its user experience, and an ongoing overhaul of its merchant networks to increase product quality.
Its COO and CFO Vivian Liu said, 'the next 12 to 18 months will also be about growing the user base organically, versus through paid channels like Google or Facebook… Improving customers' first-time order experiences is a big part of this strategy.' She also outlined an 'emphasis on repeat purchases through email and SMS campaigns' as well as 'performance marketing, influencer and affiliate marketing' to help with customer acquisition. Wish has also introduced a shopping event 'Wishmas 330' to rival Amazon's Prime Day equivalent.
Wish's annual ad spend for 2022 was £3.5m compared to Shein's £21m, while Temu spent £14m in Q2 this year alone when it launched to the UK market.
Wish launched advertising efforts in August 2022 with the campaign 'You Wish' out across the UK, the US, Canada, Germany, Italy and Australia. However, Wish has since pulled back on ad spend and is trying to get the best return on investment, being 'more focused and disciplined'. In conversation with Retail Touchpoints, Liu attributed Wish's Q2 declines in monthly active users to its decreased ad spend and admitted that it will likely spend a little more during major seasonal shopping periods.
She said, 'When we think about growth, it's more than just acquiring users, it's about converting the users into buyers, retaining the buyers more effectively and helping the buyers build bigger baskets.'
In partnerships, Wish sponsored Premier League club Leeds United for the 2022-23 season.
For other marketplaces you can find on the ALF platform see:
Next, Decathlon, The Range, ManoMano, Stockx
By Natalie Fedden, Content Manager - ALF
How can ALF help you?
As well as Industry Insights, ALF provides key insights to transform your new business strategy. Access the full breakdown of brands and agencies' media spend, latest news and job moves, key decision-maker contact details and so much more. Contact our sales team today to arrange a demo!
Or, are you already using the platform and in need of an ALF refresher? Call us on +44 (0) 208 102 0907 or email our Customer Success Team, who can show you how to get the most out of ALF.