Electric Dreams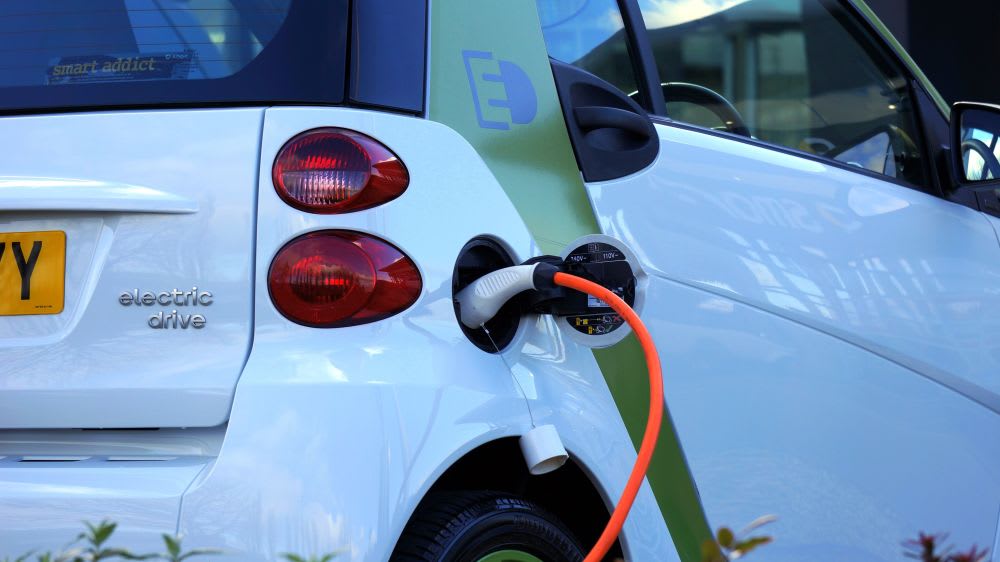 UK car sales have bounced back over the last year, and the increased availability of and demand for electric vehicles is reflected in the advertising and marketing of leading manufacturers.
By Simon Ward
At a time of continued high inflation and cost of living pressures in the wider economy, the UK car industry is enjoying something of a resurgence with new registrations having increased for 10 consecutive months.
The latest figures from the Society of Motor Manufacturers and Traders (SMMT) show that new car registrations rose by 17% to 145,024 in May, and in the year to date the number is up by the same percentage to 772,454.
The new car market is experiencing its longest uninterrupted period of expansion for eight years although it should be noted that registrations are still 21% below 2019 levels.
The growth has been driven in part by the recovery from the global computer chips shortage that was a consequence of the supply chain issues in the fallout from the coronavirus pandemic.
The best-selling models in the year to date are the Ford Puma, Vauxhall Corsa, Nissan Qashqai, Nissan Juke and Hyundai Tucson.
Sales in 2023 have been driven by large fleet registrations, up 39% to 398,024, accounting for 52% of the total, while registrations to private buyers are down 1% to 358,581, representing 46% of the market.
Petrol-powered cars still account for a majority (440,712 or 57%) of new car sales in the UK but the market share of electric vehicles of all types continues to grow as consumers become more environmentally friendly.
Battery electric vehicles (BEVs) are now the second most popular power train, with 121,268 sold in the first five months of this year, an increase of 31% on the same period last year, to take a market share of 16%, while plug-in hybrid electric vehicles (PHEVs) have seen growth of 13% to 49,485, and hybrid electric vehicles (HEVs) are up 29% to 98,679.
Of the new cars registered in May, lower mediums, superminis and dual purpose were the most popular, comprising 86% of the market. SMMT stressed that there are now zero emission options available in all segments of the market, with a choice of more than 80 models, around a quarter of all the new car models available.
Moreover, lingering concerns over battery range are being addressed with these new BEVs averaging 236 miles, well in excess of UK drivers' average weekly mileage of around 100 miles.
The country's transition to electric cars is also receiving a boost from measures such as the upcoming expansion of the Ultra Low Emission Zone (ULEZ) in London, and the planned introduction in 2024 of the Zero Emission Vehicle (ZEV) mandate, which will require manufacturers to sell a minimum number of BEV cars across their brands.
However, there have been calls for supporting investment in infrastructure, including an increase in public charging points, to meet the growing number of these vehicles and encourage more drivers to switch, as the UK moves towards a proposed ban on the sale of most petrol and diesel cars in 2030.
SMMT chief executive Mike Hawes said: "After the difficult, Covid-constrained supply issues of the last few years, it's good to see the new car market maintain its upward trend and the fact that growth is increasingly green growth is hugely encouraging.
"Transforming the market nationwide, however, and at an even greater pace means we must increase demand and help any reticent driver overcome any concerns about electric vehicles. This will require every stakeholder – industry, government, chargepoint operators and energy companies – to play their part, accelerating investment to drive decarbonisation."
Advertising and challenges
The upturn in the automotive sector appears to be reflected on the advertising side with figures from ALF, based on Nielsen data, showing that brands in this sector spent £151m on campaigns in Q1 2023, up 7% on the £142m in the same period a year earlier, and up 20% on the £126m in Q4 2022.
As a comparison, total ad spend in the sector in 2022 was £550m, down 13% from £630m in 2021.
The biggest advertisers in the UK are Volkswagen, Toyota and BMW, all of which are analysed below.
Despite the positive state of the market at present, there are potential obstructions down the road for the leading carmakers.
According to SMMT, UK production in 2022 was the lowest since 1956, with Ford and Honda among the firms to have closed factories and plants in recent years, and electric vehicles are seen as a means of stemming the decline.
However, a recent study from green consultancy New AutoMotive found that 32 manufacturers currently eligible for inclusion in the ZEV mandate would fall short of meeting the target of ensuring that 22% of their total UK sales are electric in 2024, and face collective fines of up to £730m.
These firms include Ford albeit the US giant has pointed to plans for four new zero-emission cars in the next 18 months to ensure it achieves the goal.
Meanwhile, as the UK government aims to make the country a leader in the manufacture of electric vehicles, major players led by Stellantis are calling for the renegotiation of the Trade and Cooperation Agreement signed with the European Union after Brexit, which requires cars sold to the EU to have up to 60% of the battery made in the UK or Europe by 2024 if they are not to be subject to high tariffs.
It is claimed that unless this deadline is scrapped and manufacturers are given more time to reduce their dependence on Asian suppliers, then the production of such vehicles will not be viable, and jobs will be lost.
As well as being prominent advertisers, car brands are among the leading sponsors of sporting events, with high-profile tie-ups including Toyota's deal for the Olympic Games, which takes in next year's edition in Paris, and Hyundai-Kia's long-running partnership with FIFA, which was recently extended to 2030.
However, environmental campaigners have called on sports to end relationships with these firms because of their record on pollution. British Olympic canoeing gold medallist Etienne Stott recently joined experts and researchers to criticise such deals, describing them as "bizarre" when active travel such as walking and cycling, and cleaner and more efficient public transport, is key to the future for health and quality of life in towns and cities.
This coincided with a report from the New Weather Institute and Badvertising claiming that the likes of Toyota and BMW are spending £3.6bn on sport sponsorship to improve their image on sustainability, while lobbying governments to delay climate policy and tighter environmental regulations.
Andrew Simms, co-director of the New Weather Institute and co-author of the report, said: "Sport was the pitch where the public health struggle to end tobacco advertising was most fiercely fought, but today sport has a bigger smoking problem carrying sponsorship and ads from major climate polluters."
He added: "Through their sponsorship, Toyota and BMW continue to pollute our atmosphere, public debate and the world of sport – all while claiming they are part of the solution. If sport continues to allow itself to be used as a billboard for major polluters, it will not only be digging its own grave, but those of its athletes and fans. Partnering with companies that are disproportionately responsible for global heating is a bad look."
Volkswagen in efficiency drive
The highest spender on advertising in the UK from the automotive sector is Volkswagen Group, with the £75.9m paid out in the year to Q1 2023 being double that of nearest rival Toyota, and placing it 15th among all companies.
The German manufacturer, whose brands include Audi, Cupra, SEAT and Skoda, as well as the core Volkswagen marque, announced last week it would be implementing savings and cost-cutting measures amounting to €10bn (£10.6bn) by 2026.
The company is looking to improve production efficiency across its brands and streamline its product range as it targets a 6.5% return on sales, which compares to 3% achieved in the first quarter of this year.
Volkswagen achieved sales revenue of €279.2bn in 2022, an increase of 12% on the previous year, as a decline in vehicles delivered of 7% to 8.3 million, its lowest figure in over a decade, was offset by positive product mix effects and price positioning. This helped the company post "robust" operating profit before special items of €22.5bn, up 13% on the previous year.
The company has also made a positive start to 2023, with sales revenue up 22% to €76bn in Q1, driven by a recovery in sales volumes in Europe and North America, and an operating profit of €5.7bn. It has continued to see strong demand, with an order backlog of 1.8 million vehicles in Western Europe alone at the end of the quarter, including 260,000 BEVs.
Based on what it described as "solid" figures, Volkswagen maintained its outlook for 2023 of 9.5 million vehicles delivered, an increase in sales of between 10% and 15%, and an operating return on sales in the range of 7.5% to 8.5%.
However, Oliver Blume, who last year became chief executive of Volkswagen Group, while retaining the same title at Porsche, has in recent days accused governments of not doing enough to support the electric car industry, telling the Daily Mail: "It's not enough to define an ambitious target. You need a clear plan and timings. We will deliver the products. But government has to think about the charging infrastructure. We are prepared but need more support. Each filling station needs charging points."
Volkswagen is expected to evolve its marketing strategy following the recruitment of Google's senior global brand marketing director Nelly Kennedy to the role of chief marketing officer at its passenger car business.
In other recent developments, Skoda named FCB Inferno as its new global creative agency following a four-way pitch. The account was to commence from early April and would be run out of the London office with a remit including major product launches and priorities for over 20 key markets, and with the new agency to transition with the brand's previous agency OptimistThjnk until the end of June.
Volkswagen had earlier extended its global media contract with PHD for 12 months, until the end of 2024, with a new tender process to take place this year.
Of the amount spent on advertising in the UK in the past year, £40.9m, or 54% of the total, was directed towards television, with £10.5m going on digital and £10.4m on cinema. The most prominent campaign this year has been the trio of ads starring pioneers of 'Living Progress' to promote Audi's new electric range of cars.
Meanwhile, Audi has renewed its deal as the official innovation partner of Sky Sports through to October 2023, with new features rolled out to support the broadcaster's golf coverage.
The brand is also preparing to return to Formula 1 having last year reached an agreement with Sauber for the Swiss outfit so serve as its works team from 2026 when new regulations entailing increased electrical power and 100% sustainable fuels are due to be introduced.
Toyota stepping up electric charge
Toyota Motor Corporation, the world's largest carmaker, is perceived to have been slower than its rivals to address climate change through the development of electric vehicles.
However, the Japanese giant, which operates 67 manufacturing companies worldwide, last week announced plans for a next-generation solid-state battery as soon as 2027 that will deliver over 900 miles of range and have a charge time of just 10 minutes.
In the meantime, it expects to deliver 1.5 million electric vehicles in 2026 by expanding the lineup of battery electric vehicles and developing technology.
In a briefing, Toyota said: "With the evolution of the vehicle's operating system, the next-generation battery EV will also enable customisation of the 'driving feel', with a focus on acceleration, turning and stopping."
The corporation received a boost last week as shareholders rejected a resolution from European institutional investors to provide greater disclosures on its lobbying activities related to climate change. They also voted in favour of all 10 proposed members of the board, including chairman Akio Toyoda at the annual general meeting in Toyota City.
Toyota shares hit a 16-month high after the vote, which was seen as an endorsement of its governance and electric vehicle strategy under chief executive Koji Sato who succeeded Toyoda, the grandson of the company's founder, in April.
Toyota sold 10.5 million vehicles worldwide in 2022, making it the leading carmaker for a third straight year. The growth was driven by record overseas sales of 8.6 million, which offset a 10% fall domestically to 1.9 million.
Toyota Motor Europe outperformed the European automotive market (which fell by 11%), with sales of 1.1 million Toyota and Lexus vehicles, consolidating its position as the second best-selling passenger car brand on the continent for a second year running. Meanwhile, the company's market share increased to a record 7.3%, up 0.9% points on 2021, and sales of electric vehicles grew by 14% year-on-year to 719,000, representing 66% of its total sales mix and 74% in West Europe.
The growth has continued into 2023, with Q1 sales of 292,000, a 3% increase year-on-year and representing a market share of 6.9%, with electrified sales up 4% as its mix reached a record high of 72% in Europe, and 76% in West Europe.
Matt Harrison, the chief operating officer of TME, said: "Our first quarter sales volume is the highest since 2008 with strong demand for our multi-technology line-up of battery electric, fuel cell, plug-in hybrid and hybrid vehicles across the region. We have very strong order banks which are testament to the appeal of the Toyota and Lexus ranges, combining great design, low emission powertrains and all round product quality."
Toyota spent £37.9m on advertising in the UK in the year to March 2023, of which £22.2m, or 59% of the total, went on television, and a further £7.9m on digital.
Notable appointments at Toyota GB this year have included Richard Leonard as head of PR, reporting to Emma Lane, general manager, brand communications, while The Corner was chosen to handle its influencer marketing account following a competitive pitch, with a brief to create a range of campaigns across the portfolio of brands including Toyota, Lexus and Kinto.
Toyota's sponsorship of the Olympics is reported to be worth $1bn over eight years, and it is set to have a significant presence at Paris 2024 having opted not to run advertising related to the games during the delayed Tokyo 2020 Olympics for reputational reasons as the event was held a year later than planned and without spectators due to ongoing Covid-19 restrictions.
In the UK, the company has recently sought to improve its sporting and charitable credentials by agreeing a two-year partnership with Special Olympics Great Britain, supporting the organisation's mission to create more athletic opportunities for people with intellectual disabilities.
Meanwhile, Lexus secured a multi-year deal with the Lawn Tennis Association to become the governing body's official performance partner and automotive partner. The brand will have naming rights across key performance areas at all levels of the professional pathway from junior domestic competitions to major LTA events and the elite national teams, which will be known as the Lexus Great Britain teams.
BMW continues to invest in UK
BMW Group has been a driver of growth in the global electric car market with BEV sales up 83% to 65,000 units in Q1 2023. Fully-electric BMW and Mini vehicles accounted for 11% of the group's total sales of 588,000 in the period in question.
Despite the 1.5% fall in worldwide sales in the three months to the end of March, the German manufacturer claimed to be on course for slight growth in 2023 as a whole, with electric an increasingly important element.
Although most of its electric cars are to be produced in China, it was reported by the BBC in March that BMW is to invest up to £600m in its Mini plant at Cowley, near Oxford, to build more models of this type.
The company has been offered £75m from the UK government's Automotive Transformation Fund as it works to a target of all new Minis being electric by 2030.
Announcing the latest financial results in April, Pieter Nota, member of the board of management at BMW AG, responsible for customer, brands, sales, said: "Our strong product lineup continues to inspire our customers worldwide. Our fully-electric vehicles, in particular, are benefiting from high demand around the globe. We were therefore able to maintain the dynamic pace of our electromobility ramp-up in the first quarter.
"The BMW Group is on track for slight sales growth in the full year 2023. The main growth drivers in 2023 will be fully-electric vehicles and models from the high-end premium segment – like the new BMW i7, the new BMW 7 Series, the BMW XM and the updated BMW X7."
BMW's UK ad spend in the year to Q1 2023 totalled £33.2m, of which £21.6m, or 65.1%, went on television, with the second highest medium being outdoor, with £3.6m.
The brand is evolving in EMEA after iProspect, a subsidiary of Dentsu, was chosen as its offline media agency of record for the region. This consolidated offline media planning and buying for BMW and Mini across 24 territories, including the UK, Germany, Italy and Spain.
BMW is long-time supporter of sports and the arts, and has extended and signed new partnerships in the last six months.
It has a particularly strong connection with golf, and will remain an official partner and official car of the Europe-based DP World Tour, while continuing to support the BMW International Open in Munich and BMW PGA Championship at Wentworth near London under a five-year deal running to 2027. It is also a worldwide partner of the Ryder Cup, which this year takes place in the Italian capital Rome.
BMW is also serving as a sponsor of Sky Arts under a 12-month agreement that began last December, and which aims to link the brands' expertise in innovation, design, performance and sustainability. The idents were created by The Marcom Engine and promote the all-electric BMW i7 and BMW iX.
In addition, the company has partnered with the British Film Institute on the BMW Filmmaking Challenge, with financial and equipment support offered to five teams applying to produce a film under the theme of 'Evolving Perspectives', and showcased on the screen of the BMW i7.
On the charity front, BMW has raised upwards of £300,000 for Alzheimer's Society through the 'Connect to Care' partnership, and the organisation has further benefited from being the official charity of the PGA Championship in 2019 and 2021.
Meanwhile, Mini UK is an established partner of Dogs Trust, and last year became the first car brand to have its whole dealer network approved by the charity, with the carmaker striving to ensure it is dog-friendly, with staff trained to properly receive pets into retail spaces.
How can ALF help you?
As well as Industry Insights, ALF provides key insights to transform your new business strategy. Access the full breakdown of brands and agencies' media spend, latest news and job moves, key decision-maker contact details and so much more. Contact our sales team today to arrange a demo!
Or, are you already using the platform and in need of an ALF refresher? Call us on +44 (0) 208 102 0907 or email our Customer Success Team, who can show you how to get the most out of ALF.