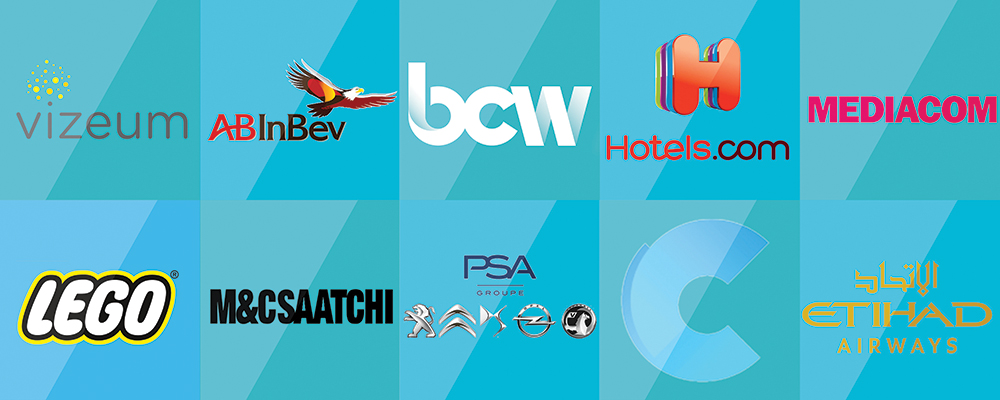 #1 AB InBev - Budweiser Brewing Group
In 2017 AB InBev launched a global media review putting Vizeum UK on alert. The beverage company planned to consolidate global media duties into only a few agencies. It was using eight agencies. Vizeum retained the account worth £1bn.
Three years on AB InBev is reviewing its global/international media agency again.
In 2018 AB InBev launched its biggest campaign ever for the FIFA World Cup. The work included a 90-second film which sees a pack of drones travelling around the globe delivering bottles of Budweiser to football fans before reaching the Stadium in Moscow. The campaign included 15 and 30 second clips, which ran in more than 50 countries on TV and digital video. Will it have a similar strategy for the Euro 2020? ALF will tell all.
Since 2017 AB InBev's advertising spend declined quarter by quarter but then rose throughout 2019 from £1.2m at the beginning of the year to £8m at the end of the year.
2019 saw AB Inbev change its UK name to Budweiser Brewing Group UK&I in order to boost brand awareness and showcase its confidence in the region following Brexit. It also promoted its Marketing Manager for Budweiser to Marketing Director for Budweiser Europe.
This year the world's largest brewer has already made three new appointments to its senior team. It has a new:
European Marketing Director
Director of Legal and Corporate Affairs
Marketing Director
And it's planning to replace its long-serving CFO Felipe Dutra this year. ALF will reveal the new CFO, and its new senior marketing team.
#2 Hotels.com
Three years ago, the hotel bookings site put its PR agency under review as well as sought a new global creative agency. It's now looking for a new agency partner for a five-figure UK social media brief. Analysing its digital spend, it doesn't spend much.
The most it has ever spent in a quarter is £400,000 which for a digital booking site is surprisingly low and has only invested in press in one quarter. Surely we can expect its digital advertising spend to increase once it appoints its social media agency.
The majority of its advertising spend is channelled into TV which typically spikes at over £3m one quarter then plummets to £300k the next.
Last December Expedia, Hotels.com parent company, lost its Chief Executive and CFO, who stepped down after a clash with its board over an ambitious reorganisation plan.
Its CEO said the company had been in "an identity crisis" and that the company was more of "a portfolio of brands and assets" than an integrated business.
The challenge to simplify its portfolio which includes Hotels.com and to attract new customers compounded broader challenges as it grapples with competition such as Airbnb who spent a sixth less on advertising mainly through digital channels.
What will be the new CEO's plan for Hotels.com and will its new CFO direct budget to help the brand's identity crisis? And could there be more agency reviews looming?
#3 Groupe PSA Vauxhall, Citroen, Peugeot
The owners of car brands Vauxhall, Citroen and Peugeot called a £773m global media review in 2017 to consolidate their media business into a single agency to improve efficiency after the acquisition of Opel Vauxhall. The account was won by MediaCom.
Shortly after, Citroen appointed a new Marketing Director for the UK. Peugeot followed suit and appointed one in 2018. He left three months into the role.
His replacement was selected within the group, who was the commercial director for the Robins & Day and Go Vauxhall dealer groups.
Out of the three brands from Groupe PSA, Vauxhall receives the most budget. It never spends less than £5m on advertising in any quarter. In Q3 last year, Vauxhall spent over £12m on advertising. That's the most it has ever spent in any quarter in almost a decade. On the other hand, Citroen's advertising spend spikes and nose dives sharply quarter by quarter, jumping from £10m to as low as £300k.
Groupe PSA is releasing a new generation of advanced electrified vehicles. Which include: Peugeot 3008 and 508 models, the e-208 and e-2008, Vauxhall Corsa E and the C5 Aircross plug-in hybrid. With all these new cars coming out of the factory Groupe PSA could be looking for new agencies to manage its new electric innovations.
Last month Groupe PSA announced it is looking for a new agency to lead on product PR. What other specialist agencies will they need?
The car makers won Automotive Management manufacturer of the year thanks to product development opportunities that all its brands are benefiting from, following the Opel and Vauxhall acquisition in 2017.
While Groupe PSA is breaking new ground, its French competitor, Renault, has suffered tumbling share prices and weak operating performance.
Keep an eye on this company. It's releasing a wave of cutting-edge cars, which could indicate there will be new marketing hires and a need for new agencies.
#4 Lego
2017 saw Lego put on alert its media account Carat, who held the account since 2004. Shortly after this announcement, Lego made a series of changes to its teams. It named a new head of marketing for UK & Ireland. The previous senior director was promoted within the European business. A month later Lego appointed a new CEO.
Initiative won the account in a competitive pitch.
In 2018 the Danish toymaker took its first step towards an eco-friendly and sustainable business model by using plant-based materials for its blocks. The plant-based blocks were available to consumers from August 2018.
Lego's chief executive opened more than 160 stores in 2019. An increase of almost 40% in the wake of the collapse of Toys R Us.
He said, "We have the ambition of getting to as many kids as we can around the world and getting to that means we have to keep gaining market share. We would rather do the investments upfront to be leading that change."
At the beginning of February this year, Lego announced two new product ideas that have been approved for development; Winnie The Pooh and The Medieval Blacksmith. Nine more product ideas are in their second review period. Lego work with 16 agencies that are responsible for looking after different products. Could Lego be on a hunt for a new agency to look after these new products?
#5 Etihad
2016 and 2017 was a turbulent period for Etihad. It split with M&C Saatchi and awarded its global digital work to Cheil in 2016. However, Etihad quickly parted from Cheil to take its work in house in 2017.
This wasn't the only agency that was at risk of losing business at Etihad. Its PR agency went under review when Etihad decided to review all of its agency relationships.
In 2018 it picked Forever Beta, Mr President and BBD Perfect Storm as its global agencies following the review. And all of this happened after Etihad Airways hired its CFO. Was this a cost saving exercise for Etihad or was there another reason for Etihad to review all its agencies? Last year it named independent agency Crossmedia as its global media agency.
Etihad has just launched a subscription-based travel solution as an extension of its digital strategy. The new travel pass provides customers with the choice between prepaid trips and pay-as-you-fly options, meeting the demands of flexibility, ease of booking and cost-efficient travel management.
Etihad's total Q1 spend has increased exponentially YOY. Will it be spending even more this quarter and what other technological developments will Etihad be embarking on. Its competitor Emirates has just partnered with blockchain startup Loyyal, to improve customer experiences and reduce the financial liability that inherently comes with large-scale loyalty programs.
Other airlines operating blockchain-based rewards programs include Singapore Airlines, Cathay Pacific, and AirAsia.
Having access to the latest news and insights helps you act instantly and reach a brand's decision maker quickly.