It was on the 23rd of March, when the Prime Minister announced we need to stay at home. What some initially thought was a temporary measure, we find ourselves eight months later and sales and marketing teams have still not been able to fully return to normal. Sales and marketing people jumped into 'work from home' life with a bang, along with 9.4 million roles being placed on furlough by the end of June many of us were left in a state of shock.
Many businesses in media entered a firefighting state, advertisers pulled their plans, consumers were locked at home, pipelines depleted, and events postponed. We asked our ALF users what impact this had in their role and discussed with ITV and Clear Channel in a recent ALF TALKS.
With brands hesitating and holding back around £1.1billion of advertising spend during lockdown and it is no surprise that 89% of respondents agreed that clients were less likely to spend. A gloomy picture, but how have sales and marketeers reacted? Over 70% of respondents disagreed that they were having instances of prospect/clients angered by their sales effort in light of the pandemic, but the way we communicate seems to have changed quite significantly.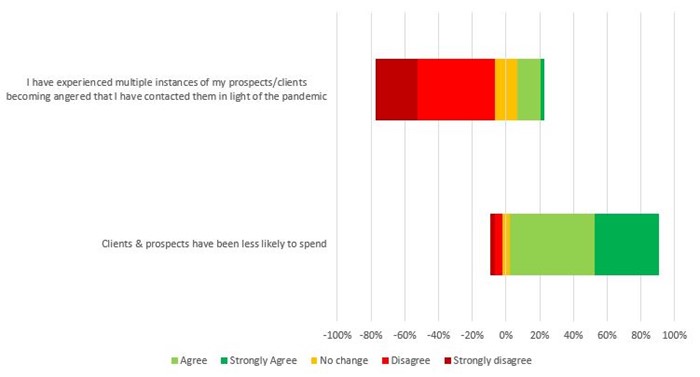 Outreach
59% of respondents claim it has been harder to reach prospects and clients on the phone, while 36% think the same regarding email. Email certainly appears to be a more widely used method with 55% of respondents claiming they have used this to communicate more over the lockdown period (just 34% are upping their phone conversation). Video is the clear winner when it comes to new ways of working. Nothing encompasses this like the Zoom boom demonstrated by the growth of 10 million daily users in Dec-19 to 200 million daily users in March 2020. This is quite a shift in the media industry highlighted by a sales survey January this year, 42% of respondents claimed they never used video to conduct meetings with their clients/prospects while 74% did this mostly in a face to face setting.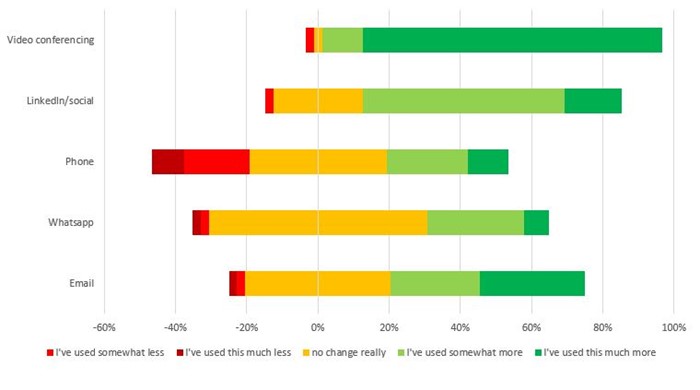 Obviously, sales and marketers have had to adjust to both internally and externally. The same goes for our clients with 84% of our survey respondents claiming that clients are open to conducting business this way now over video. A significant change in media, and with new restrictions which include working from home it is a pattern that is not subject to change anytime soon.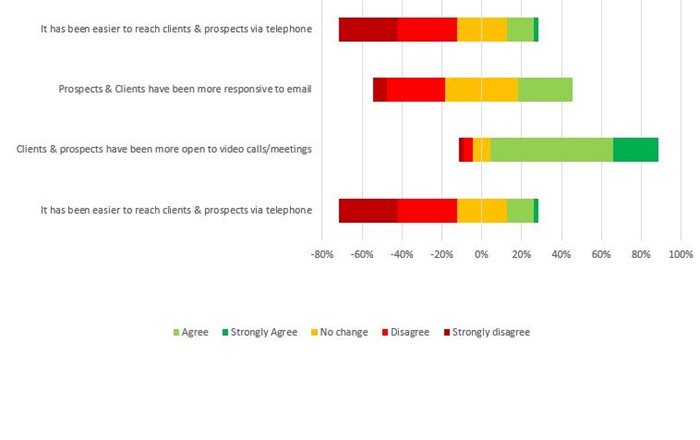 Working from home
But what is the impact on salespeople having to operate this way? Only 23% claimed to have struggled with productivity, with 55% suggesting productivity was improved. Could this be one of the ingredients to work more efficiently? Gone are the days a simple one-hour meeting takes up half a day of your time. 48% of our respondents claimed that prospects and clients were more open to them. Could this be a result of the new ways we communicate from our homes or just an 'all in it together consensus'?
In the ALF TALKS webinar, we discussed sales and marketing teams in work from home setting, and we indeed agreed the best solution was a mix of both remote and office working. There are certainly challenges being away from colleagues that we must face. There are multiple headlines regarding this work from home or in the office narrative. Still, ultimately 77% of our ALF user respondents said they missed the office and being with their colleagues despite also claiming WFH had to be an aspect in future life.
It makes sense that the best of both worlds is wanted. Despite saving on that commute time and cost what happens to training, coaching, motivation and reassurance that is gained from being together as a group. 68% of our respondents stressed that were concerned around job security and career progression created by the pandemic. This is not a shock considering furlough numbers, redundancies, and sales performance over the period, but it is so essential for organisations to reassure their teams when they can. Training plans, development sessions and team social aspects must not be forgotten- just reconfigured to fit our new ways of working. This should not just be for existing teams but virtual onboardings as well, which need to be carried out in upcoming months. We should not forget the important socialisation and learning that goes into making people great!
On targeting
If one thing Covid has reminded us is that things change quickly. The same thing goes for both our clients and our marketing and sales strategy. 91% of our survey respondents have had to change their sales pitch messaging, while 66% have been targeting brands that traditionally were not on their radar. When discussing with ITV's Rachel Compton and Clear Channels Mark Mahoney the same was true for them, and that fast-paced change of tact has been crucial for sales and marketing efforts. We have seen brands pivot to offer D2C models like 'home to Heinz' and established D2C brands increasing their spend in Q2 – the likes of Parsley box, Very, Direct Wines and Newchic.
We have been forced to re-think the makeup of our client base, looking at areas doing well. Let's not forget that this is not the first recession and there will be brands that will establish themselves in this period. Not to forget that the affordability of TV and online advertising that's allowed more digital brands to surface and advertise to a stuck at-home audience. Of course, there were also some well-established brands upping their spend in Q2 – the likes of NHS England, Apple, Paypal and Unliever to name a few. Despite the opportunity that remains I'm sorry to say 33% of our respondents have reduced their sales activity and 36% reduced their marketing efforts over this period. But with a further understanding that things will remain up in the air how will sales team reacts going into 2021?