With everything that is happening in the world, whether it's US/China trade war or Brexit, it's nearly impossible to prove a direct connection between hard-line trade policies and the impact it will have in the marketing department.
Escalating tariffs will affect different industries differently, but if the cost of manufacturing goods rises, CFOs are likely to shave whatever looks like a cost centre. Marketing often fits that bill.
On the flip side, if the price of certain goods begins to fall, ad budgets could still be on the chopping block. Retaliatory Chinese tariffs on US pork, for example, mean that warehouses of meat originally earmarked for export are starting to flood the shelves of domestic supermarkets. Why set aside budget to market what's going to sell itself?
Then again, brands must promote themselves if they want to stay in the consideration set.
Currently, we do have a relatively healthy global economy and there's growth in advertising expenditure, which is good news for brands. Signalling that markets are expected to remain healthy and that demand for products and services should build. It also means that, as digital's share of ad spend steadily increases, there will be more competition on ad channels and potentially higher prices for prime media spaces.
An eMarketer research forecast shows that worldwide ad spend will increase by 6.4% in 2020.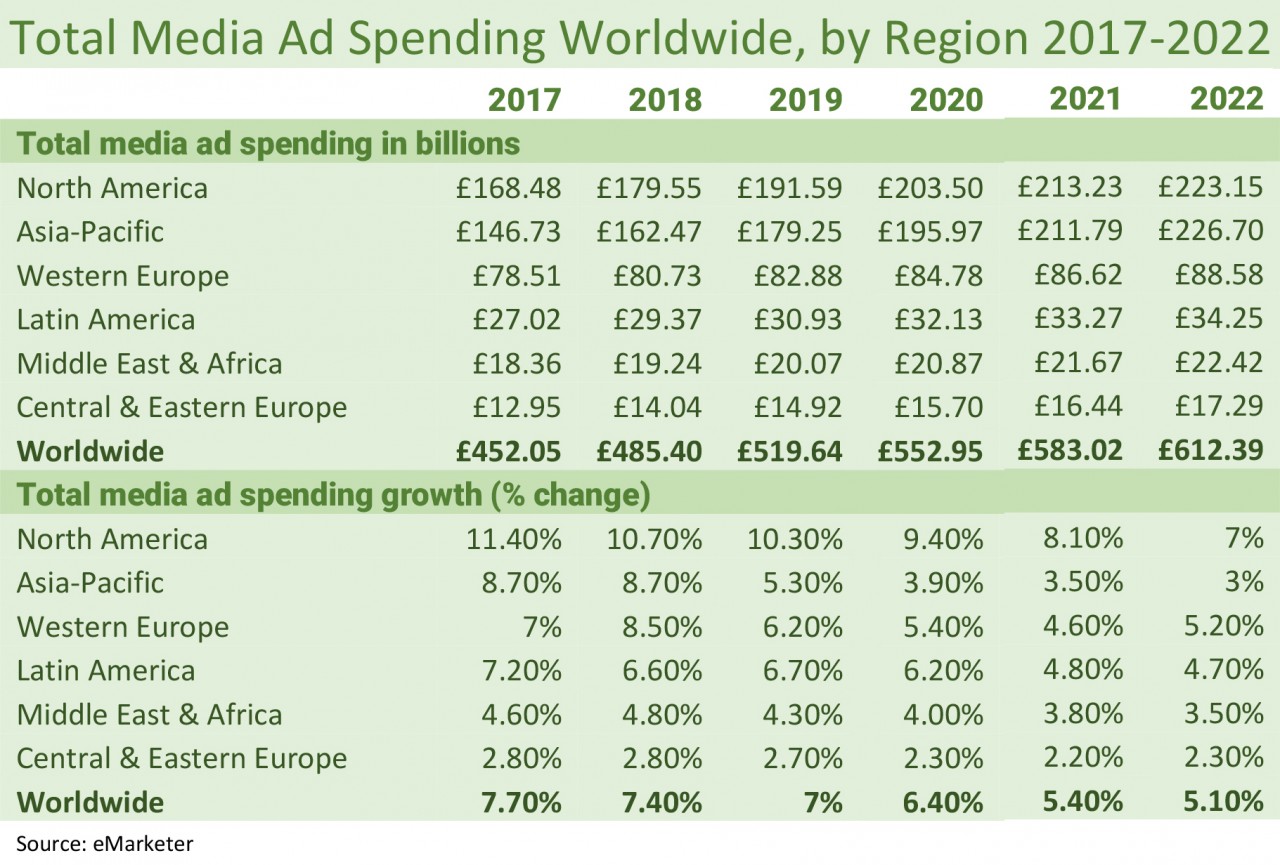 The table shows that global ad spend growth has not spread evenly across countries and North America remains the largest advertising market.
In a different report from Zenith, Eastern Europe and Central Asia have seen double digit growth in spend while others have seen minimal increases. The Zenith report also estimates that in 2020 advertising spend in North America will be more than double the advertising spend in China.
At ALF we have just researched the top 100 global advertisers which is available for you. We found that 43% of these global brands are based in the US and 40% of the CMOs, Heads of Marketing and Vice-Presidents of Marketing are based in the US.
This report not only helps to find the most senior level marketers across the globe, but also the budgets they allocate to each region.
Providing you detailed analysis of advertising spend for 20 market sectors. ALF's Top 100 Global Advertisers report makes it easier for you to win new business in new markets.
If you would like to see ALF's Top 100 Global Advertisers report contacts us today.
In these times of uncertainty, brands still need to advertise to stay at the forefront of consumers' minds and maintain market share.
Nobody knows how Brexit and the trade war will play out. John Militello, who spent nearly three years as Director of Marketing at Volvo says "….tariffs may not actually end up changing the playing field all that much". One thing is for certain, ALF makes it easier for you to prospect for new business.

If you would like to see ALF's Top 100 Global Advertisers report call us on +44 (0) 20 8102 0904 or get in touch at
 

sales@alfinsight.com.