Albert Einstein once said that time is an illusion. That's quite a mind-warping concept to try and get to grips with but fear not, we live in the post-truth era now so experts like Albert can keep their abstract concepts to themselves. Phew! Time seems very real and it always seems to be running out. Deadlines, whether bestowed from above or self-imposed through necessity are an all-too-frequent scourge upon our days, ramping up our stress and making us miss things that we don't want to miss in our lives outside the office. Whatever 2017 has in store for us, whatever form of Brexit we'll be given to work with, it can be safely assumed that time will continue to be at a premium. However the pound performs against the Euro, many of us will still be time-poor. And time is money!
With that in mind, anything that comes our way that buys us a little more time is always gratefully received. At ALF, we always strive to find new ways to bring you the information you need to make your next deal as quickly as possible; to make your lead generation as efficient as it can be and to give your organisation an edge over its competitors. That's why we've launched the ALF Quick Search widget on the Chrome Store.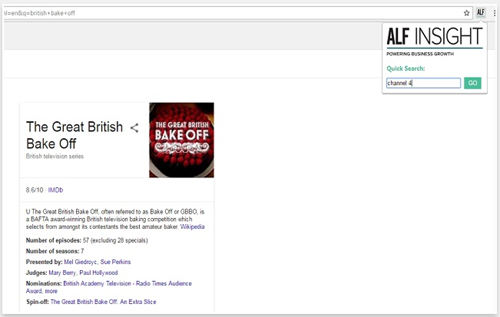 The new Chrome extension facilitates your research in two ways. Firstly, an ALF Quick Search button is added to your Chrome browser, allowing you fast access to ALF at the click of a button.  Next, whenever you come across the name of an advertiser, agency, brand or contact online that you want to look up on ALF, you can do so simply by highlighting the text, right-clicking, and selecting the ALF Quick Search option. It's free, and can be downloaded in seconds right here.
Whatever 2017 throws at you – and we hope its lots of incredible opportunities to take your business forward – ALF will be right there with you. The Chrome extension is just the latest product of our mission to help you take your business to the next level.