The ABC Interaction always provides an insightful snapshot of where the industry stands and this year's event did not disappoint. Media owners, agencies and ad tech vendors were all represented in the speaker line-up as each took stock of where we are and what needs to be done to get us out of this perennial mire of viewability, accountability, fraud and brand safety concerns. One key player in the ecosystem, the client, was missing from the line-up, but it didn't really feel that way given that Tuesday's event followed that earth-shattering speech from P&G's Marc Pritchard which, all on its own, offered a glimmer of hope that the issues discussed that day may be conquerable.
The Issues
Dino Myers Lamptey, head of strategy at The7Stars, gave a frank and honest observation of what he'd heard prior to his taking the stage when he said it all felt a bit like déjà vu. And while he paid for his honesty by being referred to as Chicken Little for the rest of the afternoon, he was right. Viewability, ad fraud and brand safety were discussed in 2017, in 2016 and in 2015, too. The ABC is doing excellent work in these areas – the newly launched Worldwide Brand Reports now offer reliable data across a multitude of devices and platforms – but on an industry-wide level debate around these issues has involved a lot of finger-pointing and precious little action.
As Myers-Lamptey argued, ad avoidance is becoming more common while engagement with ads across all media is falling. The proliferation of fake news factories in Eastern Europe and the rise of alt-right news sites have each made brand safety as big an issue today as it has ever been. And as if all this wasn't enough to be getting on with, Facebook and Google continue to use their considerable weight to barge publishers out of the queue for ad revenues. In 2016, as newspapers closed and their publishers made hundreds of staff redundant in this country alone, Facebook made $26bn worldwide selling ads from its walled gardens.
The Solutions
As far as the ABC's involvement in addressing some of these issues, new chairman Derek Morris and chief executive Simon Redlich both used their time on stage to declare that the ABC will adapt much faster to change in 2017. Morris conceded that when he first began working with ABC last summer, it was caught somewhat between the conflicting interests of the buyers and sellers who jointly own the organisation, and had been too focused on what he called 'doing the do' and not listening to what was needed. The standard-setting process will now be much 'fleeter of foot'.
For Myers-Lamptey, the single biggest weapon the industry needs to add to its arsenal is accountability, of which there is presently a hefty deficit. He criticised his agency-side peers for being too quick to blame machines and should instead take greater responsibility for losing clients' money on misplaced ads. Ending with an ultimatum that was both timely and to the point, Lamptey presented the industry with three options. Get faking; get regulated; or get together. In other words, if the industry doesn't organise to combat these issues organically, we're headed for government intervention and red tape.
On this point, Procter & Gamble's chief brand officer Marc Pritchard may have set the ball rolling in an unprecedented intervention on the subject from a major advertiser. In what marketing academic and Marketing Week columnist Mark Ritson described as 'by some way, the most important speech in marketing…since 1999', Pritchard fired a series of warning shots at advertising agencies and ad tech vendors, decrying the programmatic supply chain as 'murky at best, and fraudulent at worst', criticised the agency rebate culture and rounded on Facebook and Google's walled gardens.
Most important was what he announced P&G is going to be doing about it; by the end of the year P&G expects all of its partners to provide third-party verification of its audience data and is kicking off a review of every one of its agency contracts with a view to replacing them with more transparent ones. If other heavyweight advertisers like P&G adopt this stance, even Facebook and Google may be forced to take a few bricks off their garden walls. Tesco's creation of its new Head of Media role filled by Mindshare's Nick Ashley suggests that Tesco is also seeking greater control over its ad spend, and so it is easy to envisage a near-future where advertisers, emboldened by Pritchard's statement of intent, begin to follow suit.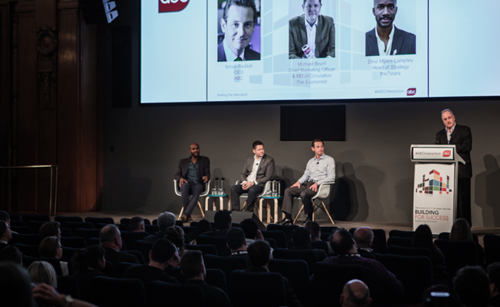 The Future
But let's go back to the Interaction. Two of the speakers, Piers North of Trinity Mirror and Rupert Staines of RadiumOne, made their predictions for the state of the industry in 2020. The former, from his perspective as strategy director of a major newsbrand, warned the room to 'batten down the hatches; it's going to be rough' as the industry continues its struggle to properly monetise the digital ad model. He wasn't unoptimistic, however, envisaging an industry that had devised a way of properly measuring and attributing digital campaigns, although the keywords 'measurement' and 'attribution' were ironically presented next to an image of a unicorn.
Rupert Staines was far more upbeat, beginning his speech by quipping that when Myers-Lamptey was speaking he thought 'we were all going to slit our wrists'. Accepting that trust is broken and that we have an industry locked by fear on one side and greed on the other, Staines argued that digital media shouldn't be fighting other mediums and should instead collaborate to create 'systems rather than siloes'. On that front, he considered JICWEBs the perfect opportunity to bring about cross-party standards. His vision of 2020: a data-driven industry using better science and better AI to help planners target consumers far more successfully.
The biggest barrier to progress? Well, Myers-Lamptey thinks that a few players are doing too well out of the way things are now. If Pritchard's speech has the desired effect, maybe every player will become more accountable and the issues that have come to define the digital media landscape in the 2010s may begin to be resolved.