Today ALF celebrates its 30th birthday. Back when ALF entered the world, the Iron Lady was Prime Minister, the Berlin Wall was still standing and the World Wide Web was a mere twinkle in the eye of Tim Berners-Lee. The advertising industry is almost unrecognisable from the heady days of long, boozy lunches and overflowing ashtrays, but ALF, in its various incarnations under several owners, has been ever-present since the first printed issue hit the press in February 1987.
ALF's founder, Stephen Hart, first conceived the idea of a monthly list of agencies and their accounts working as an advertising sales rep at the Sunday Express in the 1980s. At the time, reps were expected to know about their clients' accounts but had to rely on agencies' self-published lists kept in a manila folder. By 1986 Stephen decided to bring his idea to life, and after raising some capital from a City recruitment agency, Account List File was born, published by Stephen's new company, Black Box Publishing. Ironically, the acronym 'ALF' was a deliberate dig at the new product's main rival, BRAD, which published a similar directory on a quarterly basis. Little did he know, 13 years later BRAD and ALF would join forces under one roof at EMAP.
Stephen opened up for business in what he describes as 'a dump behind the market in Harrow Main Street', with just one other employee who handled IT. After doing the rounds at agencies explaining the benefits of having well-informed media reps, the first issue was born in February 1987.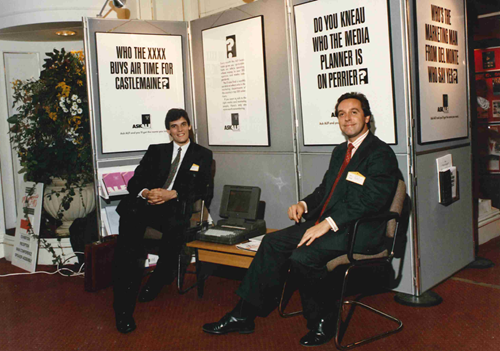 Stephen's penchant for acronyms developed through a series of sister products for ALF. An early ancestor of ALF's prospect lists, Data Agency Network (DAN) was set up offering publishers a mailing matrix that they could use to order personalised letters to agency contacts. As time went by and users could generate lists using their own PCs, DAN gave way to Mailing Matrix (MAX).
Realising that media owners needed to forge relationships with advertisers as well as agencies, Leading National Advertisers (LENA) was born, adding the top 1,000 advertisers to ALF's list of agencies for the first time. By accepting that LENA was a fundamental addition to ALF, DAN and MAX, ALF's publishers exhibited a willingness to break the cycle of male dominance in the industry that was well ahead of its time.
In 1992, Stephen left the business and ALF moved home several times before being acquired by EMAP in 1999, and rivals turned friends as ALF and BRAD were brought together. In 2003, ALF published another product, albeit with a less catchy acronym; the European Advertisers & Agencies Guide (EAAG). Sadly shortlived, the EAAG provided contacts at the top 25 advertisers and their agencies across the top five EU countries. As the world changed and printed directories became increasingly superfluous, ALF made the leap to an online-only existence in 2010, offering users live data that refreshed daily and prompting a sigh of relief from trees across the land.
Since then, ALF's come a long way, from Prospect Lists and email alerts to live reports, Chrome extensions and Salesforce integration; all of which was driven by our goal of making the lead generation process quicker and more intuitive.
Who knows where ALF will be in another 30 years? Will we look back at ALF's years on screens with the same nostalgia as those in print as we upload the data straight to our brains? Will telepathic and holographic media join TV, digital and our other spend channels? Looking back over the last three decades, anything seems possible. In the meantime, we have plenty of projects in the pipeline designed to facilitate business development in the here and now.
Here's to the next 30 years!
"I recall the books from my early agency and media owner days in the noughties, along with the internal squabble to get the latest quarterly updated edition. It has evolved well with time and is still a very reliable resource for sales leads." Alexander Bart, Digital & Sponsorship Activation Manager at Harvard Business Review.