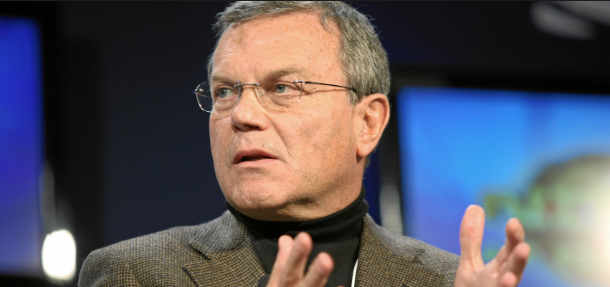 Here are the ten things we took from WPP Group CEO Sir Martin Sorrell at last week's International Broadcast Convention in Amsterdam.
1) Don Draper wouldn't understand WPP.
The global communications services company is now far more than the advertising world depicted in Mad Men, with data and digital driving so much of the businesses core activity and growth. "Seventy five per cent of our business is stuff Don Draper wouldn't recognise" said Sorrell.
2) Donald Trump could win.
"He does have a real chance of winning". Sorrell said turn out at the last presidential election was less than 55% and that if Trump could get normally "non-voting whites out" then he could win. He also said one analyst had told him that 10% of the black vote could go to Trump. Sorrell said New York remained at the centre of the media and advertising world and global economy. "Whether it will be the centre of the world if Donald Trump wins, is a good question".
3) There are four core drivers for WPP's strategy:
The key strategies underpinning WPP's growth are: "Horizontality" – offering a range of services to clients across different disciplines and functions; fast growth markets around the world, digital growth; and data management. "The biggest challenge for WPP is not geography or functions – it is how we integrate our offering to clients in the most effective way".
4) Sir Martin "rounds up" in billions.
Displaying a slide to the audience with WPP's billings, revenues and EBITDA on it, Sorrell showed reported billings of $73 billion. "Let's call it $75 billion" he told the audience. (Fair enough, what's the odd billion between friends). Sorrell's slide also said that WPP employed 194,000 people and had offices in 113 companies. "We've just opened the 113th in Iran which has the potential to be the biggest growth market since Viet Nam".
5) Google and Facebook are not his friends.
For a man who's built his own fortune on consolidation, Sorrell isn't keen on the scale and power of Google and Facebook. He said the duopoly were not good for WPP's clients and had too much power. "They are media owners not technology companies, they masquerade as technology companies. They are monetising inventory just like other media companies". He said Google had got better at sharing data but Facebook was still difficult to deal with and suggested regulatory authorities would need to look at their power and influence in the market. Between them they account for 76% of internet advertising revenues and that number is growing, much to Sorrell's consternation.
6) Disintermediation is out to get you.
We live in a world of disintermediation and we'd better get used to it as established brands and sectors If Google and Facebook are flexing their muscles, Sorrell suggested we've only just begun to see the implications of Amazon's scale and potential in the retail sector. "Just a few years ago Amazon was 15 per cent of the British Post Office's delivery business, now it delivers its own parcels". He said Amazon was the real "big one" coming, which is moving into private label packages and is already the second biggest clothing platform in the USA.
7) This is the "New Normal".
WPP's view of the world was on a slide in the deck called "The New Normal". And it had the following bullet points:
 - Low GDP growth,
- Low or No Inflation,
- Little Pricing Power,
- Focus on Costs.
8) Channel 4 should be privatised: 
Sorrell was asked by our friends at Broadcast whether he supported privatising Channel 4.  

"It would be a good thing if Channel 4 was more market driven," Sorrell said. "That's not to say it hasn't been in the past, but my intuition tells me that a sale would be a good thing."
9) Talent Wars will get fiercer.

"The biggest indictment of the (advertising and creative) industry is we don't grow talent - we steal it from our rivals. It's counterproductive as you just end up paying more for staff." He added that it was vital to "organically grow" talent or risk losing the next generation of creatives to the likes of Facebook and Google. "If you think that there is a talent war underway now, then standby."
10) Mobile advertising should grow.
Sorrell said an analysis of time spent on media in the US vs the amount of advertising it attracted showed mobile and internet advertising is lagging behind its use and there is a $21 billion opportunity just in the US and a $60 billion opportunity in online advertising.
 
Last but not least, Sorrell has got no intention of retiring. He mentioned his friend Simon Schama who had linked retirement to death and said it was exactly how he felt about it. He added: "If you're a man, starting a company is the closest thing you can get to giving birth. I will carry on as long as they will let me. They'll have to carry me out to the glue factory".