Rarely is there a period of such revolutionary change and flux in an industry as has been seen in media over the last ten years. For the executives of the national newspaper brands, the challenge of keeping pace with the opportunities available and monetising content on new platforms is a never-ending one. Such is the scale of change and new-found complexity to these companies' operations that newsbrands' performances can be perceived easily from either a glass half-full or half-empty perspective.
The more worrying issues facing newsbrands can be gleaned from the various stories these publishers report of each other: redundancies at the Guardian; cessation of the printing presses at the Independent; digital revenues being eaten away by ad blocking. To mention that print sales are continuing to fall has become so cliché it could only be made more slumber-inducing if one was to fit the word 'millennial' in there somewhere.
None of these problems are illusory, but they only represent one side of the coin. We connect with these brands more frequently and in more ways than ever before, and for all of the great strides new sources of news have made, it is still these newsbrands we turn to when we want to read about serious issues in depth. While ad blocking isn't good news for clunky display advertising, it has provided a signal to an industry which has shown a real eagerness to respond, whether through better display advertising or branded content.
One man unshakeably upbeat about the future of newsbrands is Rufus Olins, chief executive of Newsworks, the marketing body for national newsbrands. Having held editorial positions at the Sunday Times and Management Today and subsequent executive roles at Haymarket and WARC, Rufus' career predates the digital revolution and provides a wealth of experience. We spoke to Rufus to find out his views on the future of newsbrands and the issues facing them today.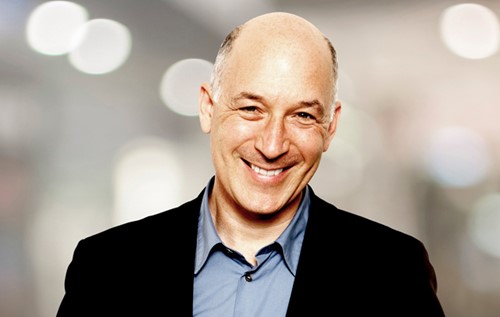 National newspaper brands have always commanded an authority which has lived on into the digital age. Does readers' long-standing respect for newsbrands give them an edge over online-only news sources?
The thing that really distinguishes newsbrands from other news sources is the depth of engagement and the length of the relationship. The relationship between most readers and their newsbrands lasts longer than a typical marriage, and that relationship is often handed down from generation to generation. It's hard to find a parallel in another sector which is as powerful as that. The only sector that springs to mind is football, where people either hate you or love you on sight because of the team you support, and you can say the same about newsbrands. That means there is a high level of trust between the reader and the individual newsbrand which distinguishes it from all other media. That clearly is a big advantage over some of the newer players.
Is that relationship in danger of deteriorating if print circulations continue to fall?
I think it's important to keep things in context. The circulations of our national newspapers are still by most standards extremely high. There are seven million newspapers that are bought every day, and nine million if you include free newspapers like the Metro and Evening Standard. That's excluding regionals. There are very few product categories which sell in such great numbers on a daily basis. While numbers in print may not be as high as they once were, they are still extremely substantial. The other thing that mustn't be forgotten is that the overall reach of newsbrands has grown hugely because of the opportunities presented by technology and new platforms. Newsbrand content is read by 47 million people every month, which is the vast majority of the population of the UK. You could argue that newsbrands' influence is greater than it's ever been.
The pace of change has been phenomenal. Is there anything happening at the moment that you find particularly exciting?
I think that innovation within newspaper publishers is extraordinary. The levels of creativity, invention and the resources that are being put into it means that hardly a week goes by where a new product or a new way of looking at things isn't launched onto the market. Whether it's virtual reality, augmented reality or video, the ways readers and advertisers can interact with newsbrands is growing and developing all the time. There's a very high degree of experimentation. Things are now being created in a much more bespoke way. It's about listening to readers and listening to customers and allowing them to help shape the solution and the conversation. It's a very exciting time.
A big part of those changes is what publishers can offer advertisers. Have there been any campaigns that have stood out for you recently?
Many of the interesting changes that have taken place is in branded content, where there is much more of a partnership between publishers and advertisers. That enables them to think longer term about what messages they want to land and how they can tap into the relationship between the publisher and its readers, in a way that preserves editorial independence and achieves the levels of engagement and attention that they are looking for. I think that's a very fruitful activity for both sides and we're seeing a lot of innovation in that area.
Through Facebook's Instant Articles and Google's Accelerated Mobile Pages (AMP), the tech giants have inserted themselves into the process of consuming newsbrands' content. Editor of the Guardian Katharine Viner said recently that this was a real concern for the industry. Do you share her concern?
I think there are huge advantages and some drawbacks to the relationships that we have with Facebook and Google. The scale of the companies means that they can offer really powerful distribution but what's interesting is that they rely on other people to provide the content despite that enormous scale. I think what that points up is that newsbrands influence and feed other media. You've seen it on television and radio, and now you see it with the two tech giants. It's a two-way street with Facebook and Google, in that we provide them with their media and the expectation is that they provide a big audience for the content that's created and refer readers back to the originators of that content. So they help to build distribution and they help to build the brand, but you do lose a degree of control.
BuzzFeed have been hiring some high calibre journalists over the past year or so. As 'disruptors' like they and VICE become more established and produce deeper, more investigative journalism, are these brands posing an increasing threat? 
I don't think we should look at it as 'us vs them'. First of all, we welcome more interesting news. I think it plays a very important role in society and we'd like more people to be engaged and reading it. What our national newsbrands provide is a level of trust and an influence that is unrivalled. The degree to which they invest in content is enormous, and the track record they've built up over generations shouldn't be underestimated. We know that these are premium sites, held to the very highest standards, so there is an obligation for our established national newsbrands to cover the big stories and launch investigations. There are other organisations that have emerged that do a very good job, but they are not expected to provide as comprehensive a service. We find at times of big national events that people turn to tried and trusted newsbrands for the depth of insight and analysis that they have provided for generations.
In March, the Independent became the first newsbrand to commit to a digital-only future. Will more follow?
All newsbrands are balancing the need to serve their print audiences with the opportunities presented by digital, and they are looking very closely at what it is their readers most want and what it is that advertisers have an appetite for. Each of them is finding a different balance and each of them has a slightly different business model. I think it would be very surprising if anybody ruled out a change in strategy. However, if you look at the breakdown in revenues between print and digital, many newsbrands continue to rely on their print edition as it still provides the lion share of their revenue.
The New Day experiment sadly failed. Is it no longer feasible to successfully launch a national newspaper, or did Johnston Press get it wrong?
I don't believe that there is a moment that you can't do something and a moment that you can do something; these things continue to change and develop all the time. We've just seen the launch of The New European. We've seen a revival in craft beers, printed books and vinyl, and there have been lots of print magazines that have emerged and are doing very well. I can't see a reason why a new print newspaper can't be launched today or in the future. It's just a question of getting the product and the timing right.
In the short run, Brexit hasn't done any harm to traffic or circulation figures. Looking further ahead though, how do you see Brexit affecting the industry in the longer term?
I think the level of interest in the coverage of Brexit is interesting in two ways. The first is that it reminds people that when there is a big national story that people turn to newsbrands to help them navigate their way through it. The second thing is that there is going to be a new layer of complexity to everything that goes on and a simple soundbite or 30 second video is not going to be sufficiently helpful. Some of the issues that Brexit throws up will need to be analysed and they are ones that newsbrands will be writing about for quite a long time to come.
In terms of what Brexit will mean for the industry in the longer term; nobody knows. There are so many different moving parts to that so it's far too early to say. That said, Britain's newsbrands are thriving internationally, and most of that growth is in English speaking countries. The success in America of titles such as the Guardian and the MailOnline has been quite extraordinary, and I don't think leaving the single market will have an impact on that. There is still a huge opportunity for us as global brands, with the quality of our journalism and having English as our language, which is an international language.
Are you optimistic about the future of newsbrands?
Of course I'm optimistic! There is a need for people to make sense of what's going on now more than ever. We've produced some very compelling research on advertising effectiveness and what's interesting about it is that there is a parallel between the way that content works and the way that advertising works. We all know that newsbrand content influences and feeds other media. The same is true of advertising. Advertising in a newsbrand supercharges your advertising on other media, whether it's online pure-play, television or radio. I think that the pendulum is beginning to swing back in favour of newspapers, on an editorial level and, critically, on a commercial level. While the world changes dramatically, newspapers will continue to find that they play an important role within it.