The effectiveness of email as a marketing tool cannot be ignored. The average email open rate still remains fairly high at 21%, proving that people do read marketing messages that pop up in their inbox, however pesky they may seem. But the challenge is not getting people to open your emails, but to actually engage with them: the average click through rate sits at just 2.3%. 
With a deluge of information pouring into everyone's inbox, you need to be able to make your email marketing stand out. Here's how to increase that all important click through rate…
Make content more visual 
Visualised content is proven to get a better response than the written word alone, with people retaining approximately 83% of what they learn visually, compared to just 20% retained from reading alone, according to research from Social Media Chimps. 
Apply this approach to your email marketing by using more images to get your message across. Campaigns with images had a 42% higher click through rate than campaigns without images, according to GetVero. Use banner images to initially attract attention and create interest, and use buttons for your call-to-action, rather than just a text link to see a potential 28% increase in click throughs. 
When using images, you need to be aware of image blockers used by email providers. According to Litmus, about 43% of all Gmail users don't see images in their emails. Always use ALT tags or provide an equivalent text link for every clickable image you include to ensure that your call to action is not lost. It's also worth making images small, i.e. no bigger than 50KB, to avoid slow load-times. 
As well as images, visualise your messaging in the form of a video. Even the lure of the word video in an email subject line boosts open rates by 19% and click through rates by 65%, according to Syndacast. Research from Forbes has found that 59% of senior executives would rather watch videos than read text, so this can be an effective format to get your messages read rather than deleted straight out of the recipient's inbox.
Get mobile responsive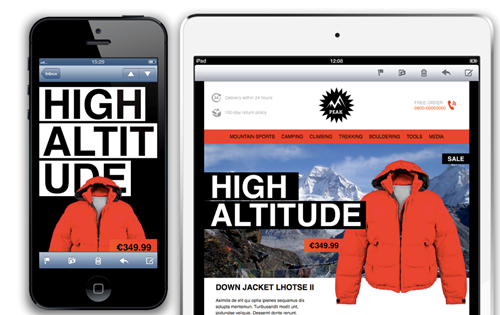 Equinox' mobile optimised campaign.
We are a society on the move with email alerts literally in the palm of our hands: 67% of consumers use a smartphone to check their email and 42% use a tablet, according to BlueHornet. This proves that mobile responsive design can no longer be ignored in email marketing. 
Your email recipients won't wait to see your carefully crafted content if there is slow load time or the design is scrambled because it isn't optimised for mobile. In fact, 69% of mobile users delete emails that aren't optimised for mobiles, according to Litmus. 
Mobile responsive design is particularly important in newsletters, which by nature have carefully constructed layout and design to facilitate an easy-to-follow flow of information. If this is scrambled on mobile, you've got no hope of getting any click throughs.
Brands that use responsive design in their email marketing campaigns see mobile click to open rates boom to 40% more than those who only use non-responsive emails.
89% of email marketers are losing leads and opportunities because they are not optimising their emails, according to Equinox. Don't become another number in this statistic and optimise your emails for mobile now!
Segment your data
While sending mass emails is an effective way to get your message across to thousands of contacts, consumers are wise to this blanket method and want to see information that is actually relevant to them personally, not to the whole customer database.
The value of segmenting data is clear to see: MailChimp found that the open rate of segmented campaigns was 14% higher than non-segmented campaigns, and the click through rate was an impressive 65% higher.
Use a tool like ALF to develop an understanding of your audience and what they are actually interested in. Create different lists and target each list with appropriate information accordingly. 
Behavioural segmentation is a great way to target potential leads, for example engagement, but simple demographic segmentation of email lists, such as location as job title, was found by MailChimp to increase open rates by 19% and click through rates by 22%.
Campaign Monitor reported that marketers can see up to 760% increase in revenue by simply segmenting their data for email campaigns, so if you're not already segmenting your data, you should be! 
Personalise your campaign
Once you have segmented your data and know which groups you are addressing with your email marketing, you can personalise the content to ensure that you really drive your marketing message home. 
Once your recipients open an email and realise the content is actually relevant to them, click through and conversion is bound to go up. Personalised email messages have been found to improve click-through rates by an average of 14% and conversions by 10%, according to Aberdeen. 
The first, and most basic step, is personalising the 'to' field, which despite becoming a common feature in email marketing is still an essential one. Even putting the recipients name in the subject field means the email is 26% more likely to be opened, according to Campaign Monitor. 
Using your segmented data, you can then provide automated content based on what your lists engage with in previous emails. Promotional emails are a great example of personalised content, providing discounts and offers based on past behaviour. Yet only 39% of retailers send personalised product recommendations via email, demonstrating the missed opportunity in this sector. Remind them of this!
Optimise your email strategy now!
To ensure you are getting the most out of your email marketing, employ the following tips to see your click through rate improve*:
•Add images to see your CTR increase by 42% 
•Make your campaigns mobile responsive to see your CTR increase by 40% 
•Segment your data to see your CTR increase by 65% 
•Personalise your campaigns to see your CTR increase by 14%
*all stats are based on the referenced resources
Image via Equinux