There is plenty to be optimistic about in the out-of-home (OOH) sector. For other media, advances in technology provide a mixed bag of opportunities and challenges. While online advertising has and will continue to have such advances to thank for its ongoing success, the formidable rise of ad blocking is raising serious questions about the supposed value exchange between publishers and consumers. The OOH sector, however, finds itself in the unique position of being largely immune from the negative impacts to changes in technology and consumption. Nowadays, most people may not buy a newspaper every day, but they do still go outside. Furthermore, innovation in the sector is allowing better ads and better targeting, as well as more interactive consumer experiences through beacon technology.
Yet despite this, the sector's trade body, the Outdoor Media Centre (OMC), was going through a difficult period prior to its rebrand to Outsmart six months ago, having had a major player in JCDecaux withdraw its membership in January last year. The following month Alan Brydon was appointed as chief executive, bringing with him a wealth of experience from a career that includes positions at Abbott Mead Vickers BBDO, Associated Newspapers and Havas Media. Alan joined newly appointed chairman Mark Craze, former chief executive of Havas Media UK, and together they oversaw the body's rebirth as Outsmart last September. BRAD caught up with Alan to discuss the new-look trade body and the latest goings-on in the sector more broadly.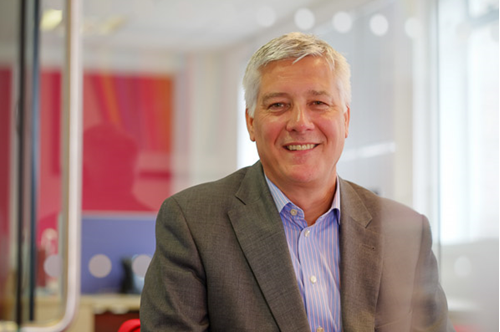 Six months on from the launch, what are the biggest differences between Outsmart and the Outdoor Media Centre?
I think there are three main differences:
1. We now have a much higher profile amongst the client and agency communities. The main reason for this is that we have a bigger team that has been relentlessly out and about talking and listening to them, making them excited about the medium.
2. Linked to the above (and contributing to it) pre-launch, we addressed what the industry was telling us were the key issues for them:

Effectiveness (the results and learnings from our major 'connected device' research will be out soon); ROI and the fact that OOH has had unfair press in this regard; and our 'OutPower' presentation which helps give answers and overcomes barriers to using OOH for agencies and clients.
3. Our marketing of Outsmart is significantly better. The website is easily accessible and uncomplicated, and has proper resource and help for clients and agencies. In addition, we are engaging with people on social media whilst sending out regular newsletters. And as a result, we have grown our overall membership.
What was the thinking behind the rebrand?
The previous incarnation had a low profile and we wanted to move things onwards and upwards. The work that Goosebumps did for us was fantastic in all regards and has helped our efforts enormously.
It's an exciting time for OOH. A number of contributors to Outsmart's recent Outlook report looked ahead to what digital out-of-home (DOOH)'s developments will bring to the sector. For you, what are the key ways that digital investment will benefit advertisers and consumers?
I think the first thing to say is that the vast majority of the medium is classic and still delivers the mass reach, quickly, with impact and fame. So in my opinion it isn't just about digital.
However, DOOH allows planning and buying to be enormously clever and efficient; it allows for more impactful and more effective creative solutions; it allows for variation in creative message delivery by region, time, weather and retail stock levels, for instance. Lastly it allows for personalisation at scale, probably the nirvana for any marketer.
There's been a lot of buzz about automation and programmatic trading starting to break through in DOOH. How is that developing and how much of an impact to think programmatic will have on the sector?
There's a lot of work being done by a lot of people in all parts of the OOH industry in the automated, real-time trading area. We don't like the term 'programmatic' as that conjures up the idea of very targeted messages to one person at one moment - whatever OOH becomes it will always be a mass reach medium, even if within that, we can deliver better and more targeted opportunities.
Automation will not only allow clever planning and buying opportunities. It will also (and already is) allow buyers and sellers to free up their employees' time to develop better solutions.
How quickly are digital sites spreading beyond London and the big cities?
The OOH medium reaches everybody, very quickly, but it is of course mainly an urban medium. And given that digital is the premium part of the medium, it is only natural that it will be towns and cities that see most of the digital sites. But the growth is rapid, as is the development outside the capital. Clear Channel, Primesight, and many others are really scaling up their national digital offering, and regional players such as Forrest in Scotland are doing the same.
BRAD spoke to Naren Patel (then chairman of the OMC), in 2014, and he said that one of the problems for OOH is that not enough creative is being done specifically for outdoor sites. Is that still an issue?
I think there is some wonderful OOH creative work out there, but more needs to be done. Engaging with the creative community is a big priority for us and we want to make sure we do it in the best way and not just dive in. But certainly, enlightenment as to what is possible is key, particularly given all the recent digital developments.
He also mentioned a target of OOH increasing its overall market share to 12 per cent by 2020. Is OOH continuing to gain ground, and how much of an advertiser's budget do you think should be spent on OOH?
Honestly, with such a diverse medium, I think at least a part of the OOH world could offer at least part of the solution to ANY brief. However, that might be just a few key targeted sites, or a massive national campaign using all formats; it might be for just one hour, or a presence all year. So there really isn't a single answer, and therefore I think to suggest the same single figure for everyone would not be logical. I believe that if we offer the great solutions, enlighten people to the endless possibilities, and inspire great usage of the medium, the share of revenue can soar. Build it and they will come!