THREE SUMMER EVENTS TO WARM YOUR PROSPECTS 
The summer months may feel quieter in the office, but rather than letting your leads go cold – take advantage of the long summer evenings and host an event to perk up your new business.
We've put together three summer events you could host to warm up your prospects and grow your big accounts:
THE EXCLUSIVE ROUNDTABLE
Roundtables are a great opportunity to show that you are a thought leader in your space and to get networking with your clients. By choosing a hot topic that is front of mind for your clients, you're sure to have a hit on your hands. 
Audience:
Roundtables should be exclusive events, attended by no more than 15 people to keep it intimate. Roundtables themed around specific industries or specialisms make for neat, self-contained events so invite your top prospects within your chosen industry or sector.
When you've chosen your target market use a database like ALF to identify potential guests by searching & filtering; for an event like this, we suggest location, spend and market category make ideal filters. 
Approach:
Breakfast roundtables tend to perform well, a couple of hours first thing in the morning doesn't eat into the rest of the working day. Keep the location central and convenient and offer up some coffee and croissants to set guests up for the day. If you choose to host an afternoon roundtable, it's worth putting some budget aside to pay for drinks and dinner afterwards to continue networking into the evening.
The main pull to roundtables is unique and relevant content. Roundtables are a chance to showcase thought leadership and show you have the knowledge to pass on to put your clients "in the know" too. Make sure your topic attracts the big guns by following our recommended content strategy: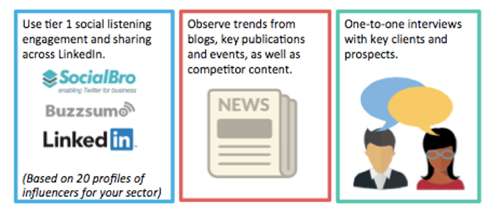 Venue
LONDON
MANCHESTER
BRISTOL
EDINBURGH
(NB: Prices are not exact, please contact venue for precise costing)
THE NETWORKING PARTY
The networking party is a great chance to grab some drinks in the sun and makes some connections while you're at it. Who doesn't love a Pimms in the British summertime? It can be a more casual affair than a roundtable and an opportunity to get to know your prospects and clients on a more personal level – key to winning new business.
Audience:
Like any good party, it's important to have a good mix of people there: customers, clients and brand ambassadors can make up a guest list of about 40 to 50 people.
To put the guest list together, select your top customers & search top prospects by market category on ALF. Your criteria doesn't need to be as tight as other events as long as there's enough people there with similar interests, so you can make introductions and get conversations flowing. 
Approach:
Having members of your own team at the event means that they can talk with guests and set up introductions between those guests who they know have common interests. Set a brief so they know who they should be talking to and make sure you all have business cards to hand. Go for approximately 5-10 staff members for an event of 50 people. 
Keep the set up casual so people can mingle. It's often a good idea to have an open bar or at least a table of drinks so people can help themselves. Providing nibbles or canapés is a good idea for after work drinks to help those who didn't have a chance to have dinner to avoid drinking on an empty stomach!
We find Wednesdays or Thursdays are the most popular nights for networking events. Take advantage of the long summer days and get your party organised before the dark cold nights start drawing in and your prospects go back into hibernation.
Venue
LONDON
MANCHESTER
BRISTOL
EDINBURGH
THE HOSPITALITY DAY
Hospitality days are saved for your top prospects and clients. The event needs to be unique and memorable - they are a chance to impress and delight, and if done right, are the perfect opportunity for growing your accounts and winning new business.  
Audience:
This is an exclusive 1-on-1 event, so should be kept intimate and saved for the clients with big potential. At the top of your guest list should be your top current customers with money to spend - treating them to a day out shows how much you appreciate their business. Next on the invite list are your top prospects (after you've warmed them up of course) and use the event as a chance to get to know them and better understand their needs.
Approach:
Be sure to be well-informed on your prospects company news. Getting up to scratch on their job moves, agency relationships, spend and areas of investment means you'll be on top of the conversation and primed to impress by understanding their business needs.
You should have one host to every four people attending to ensure they are well looked after. 
Venue
(NB: Prices are not exact, please contact venue for precise costing)
No matter what event you throw, research and preparation is key. Use ALF to compose your guest list and keep it relevant. Don't forget follow up either – if you put in the face time with your clients, you should contact them after the event to put a date in the diary to talk business after all the fun you had at your amazing event.