The pace of change since the dawn of 'the digital age', both in terms of the way we consume media and what we expect from the content, has caused no shortage of headaches for publishers over the last few years. From Paul Dacre, editor of the Daily Mail, asserting in 1999 that the idea that the internet was the future of newspapers was 'bullshit.com' on one hand, to premature declarations of the death of print more recently on the other, the industry faces a constant struggle to predict and respond to what works and what doesn't.
But while the current media landscape poses its challenges, there are plenty of media brands that are embracing the new opportunities that it presents and thriving. Someone who has overseen the development of two such brands is Bauer Media's Lauren Holleyoake, publisher of Grazia and The Debrief. The UK iteration of Grazia was launched in 2005 to replicate the success of its Italian big sister and has been serving up its eclectic mix of fashion and beauty pieces to its audience of affluent women ever since. Whilst not immune to the industry-wide drop in circulations that set in not long after its launch, the brand is as healthy now as ever before as it performs strongly online, moves into the events space and retains more than 140,000 of its print audience.
After spending three years on the marketing side of Grazia, Lauren moved over to the publishing side in 2012. It was in this role that Lauren played a key role in the creation of The Debrief, launched in 2014 to appeal to a new generation of young women, offering an in-depth and frank discussion of politics, sex and lifestyle features in addition to a new brand of fashion and beauty content. We spoke to Lauren about what she attributes to the success of her two brands, the challenges facing publishers in 2015, and what's next…
What do you attribute to Grazia's ongoing success since its launch ten years ago?
From day one, the focus of Grazia has been on understanding its audience. This year we launched 'The Game Changers: The women who went from wanting it all to changing it all' to coincide with our tenth anniversary. It's an in-depth research piece that shed light on the lives of ABC1 women aged 25-44 and it provided our editorial team and commercial partners with unparalleled insight into that demographic. The deeper our understanding of what our audience cares about, the more we can reflect what they care about in every page of the magazine, in every piece of digital content and in every social post. Grazia strives to be completely relevant to its thirty-something, upscale audience and by getting this right week in, week out – and actually hour by hour – we remain influential.
We've really adapted to how her life, our reader's life, has changed. About three years ago a reader said that she felt like Grazia had been spying on her life, which I really feel demonstrates the connection we have with our readers because we completely reflect their lives through the brand and I think that's why it's been so successful.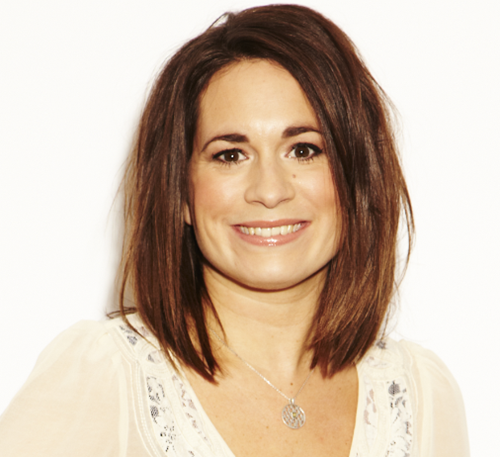 What do you think are the biggest challenges for Grazia over the next couple of years?
I think it's a real challenge every week to make sure that every page of the magazine is relevant, and I think that is a feat that we really do achieve. It's about remaining relevant and responding to your audience's needs but trying to move that on in a way that is daring and bold. We did that in 2012 when we launched our tablet edition. A lot of magazines were creating page-turners; we knew it needed to be responsive because our readers would be accessing it across multiple devices. We also knew that they come to Grazia for the shopping edits so we made it shoppable.
Most recently, we celebrated our tenth birthday this year. We shunned the predictable party that some publishers default to and opted instead to celebrate with our readers by creating a three week exhibition which looked at events across a broad range of areas, in the same way that Grazia covers a broad range of topics, which have shaped the last ten years. Some of the readers at the event had been subscribers from day one, which is incredible, and we wanted to give them access to the brand, access to the inspirational women who were speaking and give them a new experience. That was a really important event and took us in a slightly different direction.
We ran a campaign called 'Mind the Pay Gap' which saw us play a fairly central role in changing the law that paves the way for equal pay for women. It saw us address an issue that really affects our readers. We've been facing challenges but we've shown that we are able to adapt and that we know what's important to our readership.
Do you think it's important to become more customer-facing and provide those experiences?
I completely believe that the magazine format is still relevant and I think that magazine media is an incredibly immersive experience. It cuts through the clutter and commands undivided attention. What strikes me as really interesting is the relationship between print, digital and events. Digital really enhances event publishing. Take Kim Kardashian's appearance on the cover of Paper magazine. That was a high-end, relatively low circulation print product that had everyone talking via the internet. It's interesting how print and digital are talking to each other.
Print is crucial. It's seen as a trusted authority and gives brands a stamp of credibility. As such we've seen digital brands like ASOS and Airbnb launching print products and brands like Facebook are advertising in print. But on top of that we must connect with our audience digitally and we also feel that there's an opportunity to connect with them through events and experiences because for us it's about responding to what they want. In any way that she wants to connect with the Grazia brand, we will endeavour to be in that space.
Particularly in fashion, print has always been able to present things in a much more enticing and luxurious way...
Absolutely. With The Debrief, the team worked really hard on creating the right visuals for the digital space and we know from research that the look and feel of it, the visuals and the imagery are a real positive for the audience. There's a different flavour to what you get in print. Fashion resonates really well in the print environment. We have lots of premium fashion advertisers who want to be on the pages.
So what were the expectations and challenges in launching The Debrief?
We started to work on The Debrief at the end of 2012, so I feel like we formed part of that movement towards more feminist content for young women. It was clear it had to be digital and created by a team of like-minded twenty-somethings. Like Grazia, the success of The Debrief has been built on understanding the audience and we spent a lot of time on that. We found, following a period of long and intensive research, that she was desperately seeking authenticity. We learnt that the tone and the language being authentic, friendly and super-relevant is absolutely vital and now we know that that has really cut through. We found that they'd been spending maybe 15 minutes of their lives on other sites pouring over pictures of bikini bodies and they didn't feel good about that. She might have got some depth elsewhere but not in something that was speaking to her in her language. So we felt there was a real gap in the market to offer her the breadth of content that reflected her life.
We spent a lot of time thinking about our content strategy in terms of her behaviour. It wasn't just about what she's doing day-to-day, but what is she doing, thinking, and believing, hour by hour? What does she need and when; on what topic and in which format? When she woke up and had her mobile phone in front of her, what did she need in that moment? At lunchtimes when she was in the office, was she accessing via desktop and did she have time for a longer read? We had a mountain of info on which to build that and we had a team who all had impeccable instincts. We also knew that we had to be prepared to work in a really agile way; testing it and evolving it.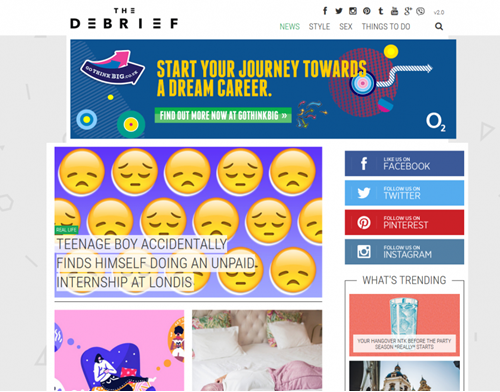 What do you think about the increasing impact of American media brands in the UK; brands like Vice and Vox? Does that present a challenge?
I don't see it as a challenge. The media industry has never been so vibrant. In the digital space, it's less about competing and more about collaborating, and that's a win-win for the consumer. Part of our Facebook strategy is serving our audience's interests, whether that content comes from us or whether we point them to Vice or Buzzfeed because we know that it's of value to them. Ultimately, there is room for a lot of brands in the digital space, and as long as what you're creating is brilliant and unique it will win through. It's great having so many brands that are creating a market alongside The Debrief. Aside from ourselves, European publishers have been quite slow to adapt. Here at Bauer we have data scientists working alongside our journalists, and that alchemy is really exciting because we can take what we know to be great and build on it. It's exciting; it's a new way of working.
There's been a gender revolution over the last couple of years, and from a publishing perspective you're seeing a lot of brands offering a new take of 'women's lifestyle' content – like Vice's Broadly, for example. That's exciting, isn't it?
You're right, there has been a change and that's exactly why we launched The Debrief because there was a gap in the market for that. One of the things that really struck me in one of our on-site surveys recently was that 76 per cent described The Debrief as unique. That goes back to your earlier question about brands coming over from the states, because when we were launching we definitely looked to those brands in the US, and actually awareness of those brands in the UK is not as high as you might imagine. We feel that having that UK slant is definitely connecting to people. Us Brits have a certain humour, a certain cynicism and cultural touchpoints and those definitely come through in the pieces that we write.
Why do you think so many European publishers were slow to adapt to digital and the new narrative?
It's difficult to know exactly why. How to monetise digital was never very clear, and people were slow to come to the digital table because the money wasn't obviously there. A lot of the magazines that have closed now were the ones that targeted youngsters. A lot of people just dismissed the print format, but actually when we looked at them it wasn't the print that didn't work, it was the approach. Getting the voice right is half the battle. At The Debrief, we've got stacks and stacks of correspondence that shows that's what the audience likes. We don't patronise. We understand that she wants a range of topics and that she might want to look good and read about heavy issues at the same time.
Do brands expect to close down the customer journey nowadays? When they advertise in Grazia or The Debrief, do they want to know that someone is clicking on an ad and going straight through to purchase?
Every brand has its own unique set of requirements and we understand that. No two campaigns are the same. They measure different metrics and we respond to different objectives set by brands. The area that we've seen the strongest growth in is around partnerships and branded content. Brands are coming to us seeking collaboration. They really value and understand that we have heritage and expertise in producing content. A really strong example of that recently is the deal we've done with Grazia and Office. With the team at Office we created a quarterly 'Shoespaper', which is an eight page newspaper distributed through magazines and in stores. We helped curate that content and we worked really collaboratively.  
Similarly, on The Debrief, we worked on a year-long deal with Bacardi. They wanted to encourage people drinking at home to make cocktails and try new things, which was promoting their whole portfolio. We helped to create a series of content franchises that we ran across The Debrief, which really resonated with our audience because we got the voice right. We understand what they are looking for from a night out.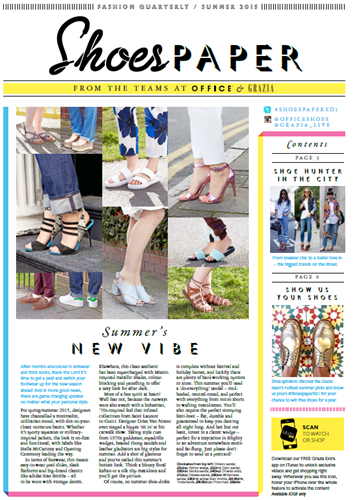 Brands still enjoy print, don't they? There's that sense that the tangibility of it hooks people deeper into the brand…
Absolutely. We apply the same rigour around our journalists and our training on digital as we do our magazines, but with digital there's no barrier to entry. There are no assurances with a lot of the content you can find on the internet whereas you can't just print anything; there's far more rigorous legal process and that comes across. There's an underlying trust and authority to print that brands understand and value.
So many brands are launching print products and we can help with that. I enjoy that because in my role, that brings together the creative passion that we have for content and solving brand's problems through the insight that we have. In the past, there was a certain tension between editorial and advertising. The collaborative approach now is much more reassuring for editors. Hattie Brett, who was the launch editor of The Debrief, used to far prefer being able to shape the things we were putting out as advertising than not having any control over it. She and her team could be directly involved and that's what's exciting. Brands get much more from us as well because there are editorial people involved.
When you were researching, what was your audience's understanding of branded content?
We asked them in surveys. We showed them an example of commercial content on the site and asked them questions like, do you notice a difference between this and other pieces of content? Are you interested in reading it? Is this intrusive? We found that our audience is savvy and they know that the creators of their content have to be paid. As long as that sponsored content gives them value too then they're happy. Native can be really great content. When it becomes a wrench, we shouldn't be doing it.
Grazia has a YouTube channel at the moment with The Joshington Post...do you envisage investing more into that platform?
We've tried a lot of things on YouTube. I think the difficulty that we've faced – and what is a broad challenge across the industry – is that video is so complex in terms of what works on YouTube versus what works on your site and on social media. On The Debrief, one of the amazing members of our team, Stevie Martin, does a series of beauty vines and some silent video content which works on Facebook because a lot of the time when you're looking at Facebook you're on the move. We're definitely playing around with ideas and we've had mixed results. It's about testing and learning, as is so much digital content.
We've found that there's a real case for that Debrief voice in beauty content. A lot of the beauty vlogger content is from girls who present this unachievable vision. What Stevie does is about relatable and situational beauty. We know that on Thursday night our audience is out drinking, so on Friday morning, Stevie's beauty vine will be on how to cover bags under your eyes on the bus to work. They do really well and they've got real tone and humour.
What's coming next? What are you focussing on for next year?
On The Debrief we have some exciting plans to work on some campaign-led ideas. There are some issues that we think really affect 'our girl', largely around housing, and we're thinking about how we can affect change around that. We're also thinking about growth. We're really happy with our numbers but we feel The Debrief can go beyond and we're working on that at the moment.
Instagram is a really key channel for us. The Debrief is a visual brand and our audience is on Instragram so it's exciting what we can do in that space. Our audience is young and adopting platforms quickly. Vine is one of our editorial content formats and we've done partnerships on Snapchat.  It was important that we did it because we needed to be there in that space. It's about constantly trying new things and not worrying too much if it doesn't always work. In digital, it's much easier to do that.
At Grazia, it's very much about seeing how we can evolve the product and continue to make it agenda setting. We also recently launched our inaugural Grazia Google event which is a really exciting partnership with Google, at their Digital Garage in Leeds. The theme was about empowering women with technology, so it was perfect for us. It was incredible how engaged and excited the audience was. It was a humbling experience because it was an audience of smart, inspired, entrepreneurial women and they really loved how the two brands had come together. We've got plans to roll that out into a series and we think we can go in lots of different directions with that. It's an exciting time!