The pace of trends and innovation in media and marketing in 2015 is ridiculous and it's hectic trying to keep up.  We know there's an infinite stream of media news you're ploughing through on Twitter, and those inspiring white papers quickly stack up, and NewFronts videos get bookmarked, and with the best of intentions you maybe never manage to digest it all. Blink, and you've probably missed another round of disruption. So we thought why not launch a quarterly media & marketing magazine...in print? We decided to call the magazine BRADas an extension of our much-loved media planning products which have been market leading for over six decades. But it's crazy to be in print when all the talk is about digital, right?  No, we're going after those moments you need to have a screen detox. BRAD will cut through the hype, tune out the noise and deliver definitive articles you will want to share, re-read, re-discover and refer back to over and over. The BRAD magazine is destined to become a keeper, a regular feature on your desktops taking advantage of that moment to get some much needed perspective on media, tech and marketing.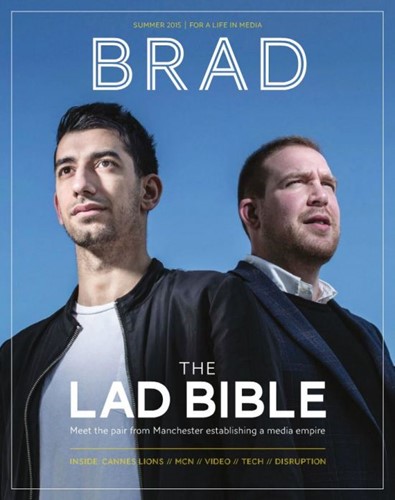 We will be getting access to the game changers and disruptors who are re-calibrating the world around us and BRAD will breakdown the DNA of how content is now marketed, created, consumed, distributed, and shared.
In our launch issue, get to know the founders behind TheLADbible, two lads in their early twenties from Manchester who in three years are on the verge of establishing the media empire of the future. In an exclusive interview with the pair, find out how they've nailed it and scaled up their audience of 17m on Facebook.
Arm your mobile strategy with our exclusive survey in collaboration with Research Now outlining surprising (not surprising) consumer attitudes towards mobile video advertising.
YouTube sensation Zoella's management team Gleam Futures give us their tips on the next social stars you should be working with. Get the 101 lowdown on how to effectively partner brands with YouTubers from Rightster, Stylehaul and Channel Mum.
Our ad tech rundown has a compendium of hacks from global industry experts including the head of the IAB, Guy Phillipson, Forensiq's Erol Soyer on being an ethical trader, and Vivaki's President, Global Clients, Marco Bertozzi on trading exchanges.
And we've only mentioned the words programmatic and mobile and video…oooh about a billion times. Deal with it though, they're here to stay!